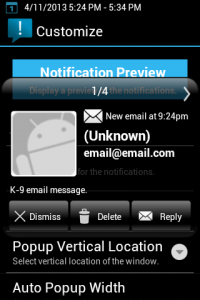 If you've ever seen an iPhone and you're an Android user, there's a good chance you might wish that you had pop-up notifications too. Droid Notify Lite can help you with that problem. Droid Notify gives you pop-up notifications (all of which can be themed) for your favorite Android device.
What is it and what does it do
Main Functionality
Droid Notify is an app for Android that gives users the opportunity to have pop-up styled notifications. Lite is the free version while Pro is the paid version.
Pros
SMS/MMS, nissed calls, calendar events, and K-9 mail client popup notification support
Tons of themes to choose from (ICS theme, iPhone theme, Gingerbread theme, Froyo Theme and etc)
Button customization
Very fast notification reactions (works instantaneously when receiving a notification)
Supports 'Quiet time,' a feature that can effectively turn off pop-ups for any determined amount of time
Cons
More robust features are only available in paid version (Google Voice support, Facebook support, and Twitter support; customization options on a per contact basis; and blacklist)
No Gmail support, plus would be nice to support other apps too
Discussion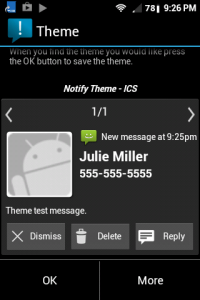 Droid Notify Light is a very interesting app to say the least. Most iPhone users are spoiled with pop-up notifications, and no doubt that Android users have some envy on that front. This app brings notifications that are very similar in styling. The lite version, admittedly does not have a ton of features. It's not really anything too compelling, yet it does get a few things right.
This app is very cool in the sense that it brings you a feature that is not implemented inside Android. Admittedly, I did  the 'Quiet time' option was pretty cool, and very handy. It would be very nice to get a lockscreen popup too, one that notify me that I have either a new email, a new @reply on twitter, Google+ or Facebook notifications, perhaps Tumblr reblog/like notifications or even just text message and missed called notifications. This app takes it sort of the way there, but without the paid version, its kind of a bit half-assed.
The features that it does have are pretty basic in its nature, but its not anything that I'm sure most users are looking for. Most users are looking for a vast amount of features, and while it's a stretch complaining that something that is free needs more features, it's more or less just a bit irritating. I feel like this app is a demo version that is constantly reminding me that I don't get everything unless I pay. I hate that.
I'm not really I'm all for adding more features for an app that you need to pay for, but more or less I think that you might as well not even have made a free version. I'd much rather just pay for the pro version, instead of being teased with very basic functionality. The basic functionality of this app is decent, but in no way is it worth using over the paid app. I find this to be a bit 'leading'. I feel like it's just a tease, something to get you to pay for something much better. It felt like a demo. It was neat, but I don't think I'll be using it again any time soon. IF you're going to make a free version, you should make it so it's good, and not just 'good enough'.
Conclusion and download link
Droid Notify is a very interesting app, but one the free version lacks too many features to make it worth using for many people. It may have the basic features (SMS/MMS, K-9 email, missed calls, calendar) but most users are looking for something that supports Gmail, Facebook, Google+, Twitter, Instagram, Tumblr, etc. If you're just looking for basic pop-up functionality, this app is perfect for you. But if you're looking for more, you might as well move on and continue searching.
Price: Free
Version reviewed: 3.29.2
Requires: 2.2 and up
Download size: 2.7 MB
Droid Notify Lite on Play Store
Related Posts