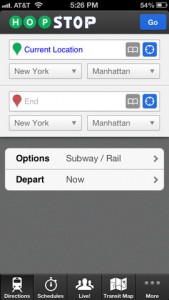 Moving to a new city is exhilarating, but it can also be really stressful. Finding your way around a new city is always tough, especially if you come from some place that didn't have much in the way of a transit system. Whether you are traveling for business or trying to get oriented in a new city, an app like HopStop can prove to be quite useful.
What is it and what does it do
Main Functionality
HopStop is a transit app that can provide you with tons of directions for using the subway, walking paths, taxis, trains, and buses. Official transit maps are provided, alongside tools that help you find the nearest transit stops to your current location. The app supports over 550 cities from around North America, Europe, and Oceania.
Pros
Get transit directions based on your current location, and compare various route options with SmartRoute
HopStop Live! feature lets users get real-time updates from other users about delays or routes that aren't in service
App can calculate travel time and cost for taxi transport
Trams, trolleys, and other less common forms of transit are also supported in select regions
Cons
Requires iOS 6.0+ to get full functionality
Going "ad-free forever" via in-app purchase is a steep $4.99 (most other apps charge just 99 cents!)
Biking directions are only available in a few limited US markets, including San Francisco, New York City, Chicago, and Washington, DC
Transit schedules are subject to change, and the app cannot always guarantee information that is being provided
Discussion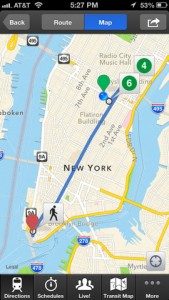 I was gobsmacked at the sheer variety of megametropolises and smaller cities that HopStop supports. It is not just big cities that get represented here, but minor US locales like the Seacoast area of New Hampshire, Oshkosh, Visalia, and other cities that are big enough to support a transit system, but nowhere near big enough to be on the radar for the global community.
So, HopStop has got great coverage. How's the actual app experience? In a word: super. The app is super easy to navigate, with plenty of excellent data available at your fingertips. I wouldn't be caught in a new city without this app.
There are also a variety of in-app upgrades that you can purchase to improve your experience further. You can go ad-free, though the price is a bit steep. It costs $4.99 to go ad-free, which seems way more costly than in most other apps. However, if you hate ads, this is worth the fee.
Other in-app purchases include additional transit maps, each of which costs 99 cents. Maps available for in-app purchase include the Moscow metro, the 2013 NYC MTA subway map (the 2012 map is free), and Amtrak lines.
Conclusion and download link
There's nothing worse than being lost in an unfamiliar city. Keep HopStop on your iPhone, and you'll never be confused about your transit options again. And even if you already know your city pretty well, HopStop is worth checking out because you can use it to check out biking trails and other hidden gems that every big city has tucked away.
Price: Free
Version reviewed: 2.5
Requires iPhone/iPad/iPod Touch, iOS version 6.0 or later
Download size: 19.5 MB
Related Posts