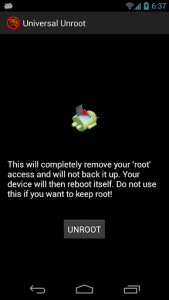 One of the first things many people will advise when you first get an Android device is that you root it. Rooting a device gives you access to functions you would never have otherwise. Regardless of why you do it, a lot of manufacturers will tell you that rooting voids your warranty, and it ruins any chances of getting help from said company. So the best thing to do before taking your device for any help or service is to unroot it. This is not always an easy task, especially for folks who let someone else do the rooting in the first place. Universal Unroot is an application that provides a one-tap unroot solution for almost any Android device out there.
What is it and what does it do
Main Functionality
Universal Unroot is inherently an easy to use tool that will return any Android device back to unroot status. If you need to take a device in to get it repaired or get any kind of customer support or even run some apps (like banking apps), then you'll need to remove all traces of root on your phone or tablet. Some phones even require no root to get OTA updates. This application makes the unroot process easy and efficient.
Pros
One-tap unroot process for most all Android devices, smartphones and tablets

Note: The developer does not specifically list which devices this works with and which it doesn't, but does say this should work for "any" device.

Clean user interface and easy to use; includes a single button that allows you to unroot
After unroot process and a quick reboot, all traces of previous root are gone — including Superuser app
Cons
Not free, but it's hard to argue with $0.99
Not visually appealing but it gets the job done
May not work with all devices
Discussion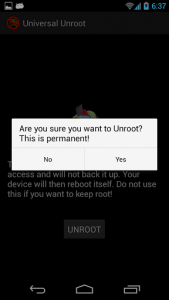 There isn't a whole lot to explain when it comes to the application itself. After starting it up you'll immediately see that there's only a single button. The single button just says "unroot" and it does exactly that after you push it. Of course, a pop-up window will appear asking you to confirm that you genuinely want your device unrooted.
Once you choose the button to unroot your device, and approve so in the prompt, it will ask for root permissions. You'll then have to allow root access to the application, whereupon it will perform the necessary operations and then reboot the device. Once the device has rebooted, it will no longer be rooted, and all traces of root access will be gone. For example, the superuser access app will no longer be installed on your device.
Universal Unroot works with any devices that have been rooted and now include any of the ChainsDD Superuser, Chainfire SuperSu, or Koush Superuser apps. It's also locked down to x86, ARM and MIPS based devices.
The user interface is clean, simple, and there's utterly no way to get lost while using the app. After all, there's only a single button to press in order to start the unroot process. This application makes it extremely easy for anyone to unroot their device.
It does it properly too, I just unrooted my device because Verizon and Motorola released an OTA update for my phone, the Droid Bionic. Getting a little off topic here, it's the first time I'll be able to use Jelly Bean. In order to update I had to reset my device back to stock, and that included defrosting bloatware that I had frozen and unrooting the device.
The biggest problem with this app is that there is no free version. It only costs about a dollar in the Play store though, so take that as you will. It's cheap, and it just simplifies the entire unroot process. Furthermore, it erases all applications that were installed during the root process. After the work is done, there is no way to tell that the device was ever rooted.
Conclusion and download link
Universal Unroot is fairly straightforward. There's not much to it, but it works… except when it doesn't. The app supposedly works with "all" Android devices but anyone with any bit of Android knowledge knows there is rarely one-size-fits-all solution when it comes to rooting/unrooting. However, generally speaking, Universal Unroot works. It's especially notable for anyone that needs their device unrooted but doesn't quite understand the root process, like if you had a friend or someone else root your device. Since it only costs $0.99, it should be within everyone's price range.
Price: $0.99
Version reviewed: 1.06
Requires: 2.2 and up
Download size: 2.7MB
Universal Unroot on Play Store
Related Posts