The best part about Linux is the fact that you can customize your experience. Luckily there are tons of different things to choose from. If you've ever wanted a Mac-like dock for Linux, Docky is one of the best options that you have on Linux.
WHAT IS IT AND WHAT DOES IT DO
Main Functionality
Docky is a Mac-like application dock for Linux. You can place shortcuts to your favorite programs in the dock, which floats on your screen.
Pros
Has plugins and 'docklets' including some Gnome-do plugins
Supports drag and drop items into dock
Several different themes are available
Has a panel mode (turns dock into panel)
Includes dock helpers for tons of programs (Banshee, Rhythmbox, Deluge, Tomboy, Zeitgeist and etc)
Cons
Discussion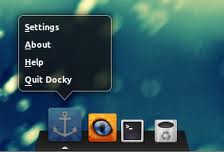 One of the great things about Linux is the customization. You will never run out of Window managers, desktop environments, panels or docks to choose from. Docky is one of the many docks that are available for you to download. Docky was originally part of the Gnome-Do project but in 2009 the project severed it's ties from Gnome-do.
The thing I love most about Docky isn't the plugins, or the docklets or dock helpers — it's the simplicity. It's the fact that it's a sophisticated dock with a very polished feel, and it's not overloaded with bloat and crap. I love that it does exactly what it's supposed to do, I love that it's responsive, and most of all, I love the fluidity of it. It's really smooth. With a dock or panel
Docky has some pretty cool features. One that comes to mind are the dock helpers. I'm a huge fan of the Banshee music player so I was pretty happy to see a dock-helper that allowed me to manage my Banshee player straight from Docky. It's very awesome and I'm always looking for new and interesting ways to Compute. Docky also has 'docklets' these include things like wifi connectivity, battery status and et cetera.
It's not all great for me when it comes to Docky. Sure, some of the features are really cool and the program itself is very fluid, but the skins are pretty much atrocious. Not all of them are bad looking but some of them really need some work. I'm usually somewhat critical with a program's user interface. I try not to be too critical because it's usually a case of form over function. However, with Docky, half of the reason for wanting a fancy dock is having some kind of eye-candy. You want it to look good, and unfortunately some of these themes just aren't good enough for me.
All in all, I'm not too big on Docks, but I do really like Docky. I'm a minimalist so in all actuality I'm probably not going to be using this day to day, but it is a program that I install from time to time just because I can. Docky is a wonderful program if you're looking to have a Mac-like experience on your Linux system. This is a really niche program, but if you're interested in trying new things out then you might as well give it a go.
CONCLUSION AND DOWNLOAD LINK
Docky is a wonderful program for those who are looking for a sleek dock for use in their Linux systems. Docky is very fast, shiny and well put together. It doesn't take up all of your processes and it still manages to work wonderfully. If you're the kind of person interested in new panels, window managers and docks, you might want to give Docky a shot.
Price: Free
Version reviewed: 2.1 Stable
Supported OS: Any Linux distro
Download size: Unknown 
Is it portable? No
Related Posts