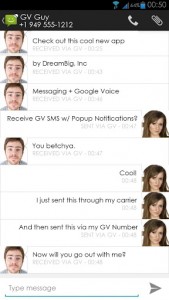 Ever get tired of switching between your stock SMS messaging app that you use for your carrier and your Google Voice app? If that's the case for you, then Messaging + Google Voice may be the best thing ever. This app can easily unify all of your text messages into one easy to find place.
What is it and what does it do
Main Functionality
Messaging + Google Voice is an SMS replacement app and SMS client for Google Voice. It essentially allows you to SMS/MMS from your regular carrier number and your Google Voice number from within one app.
Pros
Works with SMS/MMS for carrier number
Works with SMS for Google Voice
Great Google Voice integration
Sorts Google Voice texts into threads
Allows you to back up Google Voice texts with stock texts because it uses the stock messaging database
Can be set so you can be prompted before each text to send via Google Voice or carrier
Supports pop-up notifications with quick reply function
Cons
Notification pop-ups can not be customized
Discussion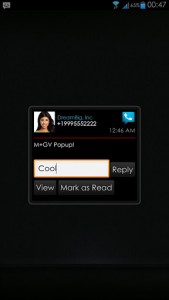 I'm a huge fan of Google Voice. Though it does not support MMS, I love that I can check my texts just about anywhere with an internet connect. If my phone dies, I can just go to the Google Voice website and read my text messages or my transcribed voice-mail  Still, there's one massive drawback to the official Google Voice app. Threading. It's an atrocious thing that I've pretty much had to get used to over the years of using it. Every text you get is in it's own thread sure, but not one unified thread like you're used to in Android.
The Official Google Voice app can be downright pathetic when you look at some of it's competitors. The main attraction to the service is the fact that it's Google. You know it's going to be reliable service coming from Google. It lacks a lot of features like text threading and MMS messaging. With Messaging + Google Voice you get a stock Messaging app that has been modified to also handle Google Voice texts. This means that you get some features that Google has neglected to include. The main feature being threading.
I'm really impressed by this app in a lot of ways. Obviously the fact that I now get to have message threading with my Google Voice sms conversations is my favorite feature. However, I also really like the fact that this app actually uses the stock sms database so any text that you get from your Google Voice account can then be backed up like a normal text message with a backup tool of your choice.
Obviously no amount of programming magic can place MMS messaging into Google Voice. It's something that I wish Google would implement, and something that I expect them to do eventually. This app has streamlined my workflow and made me less angry with getting Google Voice texts. I really like how everything comes together so elegantly in this app. I'm very much impressed with it.
The only major issue that I have is that I cannot customize the way that the pop-ups look. It's a bit of a bummer that I can't because I'm the kind of guy that wants to have everything perfect. Now don't get me wrong, I really like the SMS pop-up notifications. In fact, I've always kind of wished that Android would implement something similar to it. So with this feature tacked onto it, makes this app on it's own superior to the stock Android messaging app. Even if you don't have a Google Voice account this could be somewhat useful.
Conclusion and download link
If you've ever been annoyed with having to juggle the official Google Voice app and your regular messaging app, you'll love Messaging + Google Voice. It adds things that you wished were already a part of the regular Google Voice experience plus makes it very easy to use both your numbers (your carrier number and Google Voice number) to communicate via text message. This is a must have for any Google Voice user.
Price: Free
Version reviewed: Varies with device
Requires: Varies with device
Download size: Varies with device
Messaging + Google Voice on Play Store
Related Posts