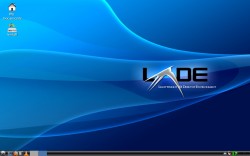 Want a modern looking desktop environment on your aging Linux PC? Check out LXDE. It's specifically designed with lightweight computing and low memory usage in mind. This desktop environment could very well bring your old machines back to life.
WHAT IS IT AND WHAT DOES IT DO
Main Functionality
LXDE is a desktop environment specifically designed for computers that do not have a lot of memory or CPU power.
Pros
Built around the mindset of lightweight computing
Works exceptionally well on aging Computers.
Allows for plenty of panel customization
Supports GTK+2 themes and XFCE4 theme
LXDE's default file manager is blazing fast and keeps it simple
Uses Openbox for the default window manager allowing superior memory management
Comes with lightweight alternative to popular applications
Modern looking yet exceptionally light on it's feet.
Gives you a choice to use an eeepc-like launcher if you so desire
Panel system has many panel widgets to choose from
Can run on 192 MB of ram
Impressive set of preference, system and setting tools that are all easy to use and understand
Complies to free desktop standards.
Cons
Terrible pulse audio support (No integrated music mixer in volume manager)
Often buggy
Ubuntu LXDE implementation does not support the 'me-menu'
Discussion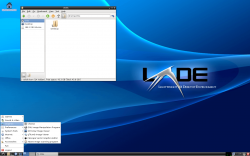 For a while I preferred LXDE to XFCE. I used it for a couple months and eventually I was starting to get tired of using it, and I thought I'd switch it up. I've been on XFCE ever since. It's not that I dislike LXDE, far from it. It's a wonderful Desktop Environment if you're looking to bring new life to old hardware. Anything beyond that is pretty debatable.
The thing is, LXDE is severely lacking in anything that would set itself apart from XFCE. To me, LXDE is a less polished fork of XFCE. Now, that might not be a terrible thing, but I really think they're doing themselves a disservice by not coming up with some really interesting and compelling features. Just because your project is based around being lightweight does not mean you can't have cool features. Look at XFCE 4.10 and you'll see what I mean.
Another thing that really irks me is the fact that LXDE has pretty terrible audio support. Sometimes I found that I had to manually add the volume mixer because there were times when it didn't even load up. It also kind of annoys me, that being a fan of Ubuntu derivatives I was not able to get the 'me-menu' working in LXDE. That's a major downside in my book because the 'me-menu' allows me to get all my messages in one central place.
On the upside, LXDE runs amazing on older hardware and can run on 256 MB of ram or less. That makes LXDE perfect to run on an old Computer lying around your house. LXDE comes with Openbox, a superior lightweight window manager gives other lightweight window managers a run for their money, and a wonderful file manager. I really enjoy PCManFM. When I get my XFCE setup running I usually replace Thunar with PCManFM.
Another really great thing about LXDE is the panel system. The customization is a bit more complicated in relation to other Desktop Environments, but it is really really configurable. You can do just about anything with it. A bonus to the panel system is the widgets that it gives you. Most of them remind me of XFCE/Gnome2.x panel widgets — but they're still pretty great.
All in all, LXDE is a wonderful desktop environment, but one that isn't very compelling. It is superior on aging hardware and comes with a pretty awesome set of applications. Though I don't currently have any urge to switch from what I have now, this is a DE that I'll continue to keep a close eye on as it matures.
CONCLUSION AND DOWNLOAD LINK
If you're not a fan of XFCE you might want to give LXDE a serious look. It might not have all the fancy features that more mature Desktop Environments have, but what it does have is speed and low memory usage. If you've got an aging Computer just sitting around in your house, pick your favorite distro and install LXDE along with it. It could bring your old machine back to life.
Price: Free
Version reviewed: 0.3.2.1
Supported OS: Any Linux Distro, BSD, Solaris
Download size: Unknown
Is it portable? No
Related Posts