Are you a fan of tiled window managers? This window manager might just be what you're looking for. Awesome Window Manager is a highly configurable, tiled window manager for X11. It's one of the most unique and interesting window managers on the market, but is it worth your time? Let's find out.
WHAT IS IT AND WHAT DOES IT DO
Main Functionality
Awesome Window Manager is a highly configurable, tiled window manager for X11
Pros
Can be used and navigated about completely by keyboard commands
Complies to free desktop standards
Supports extensions via Lua
Tiled layout
Highly configurable and customizable
Uses tags instead of workspaces
Cons
Hideous and rigid
Tiled nature removes window decorations so applications in awesome look out of place
Not very intuitive
No workspaces
Discussion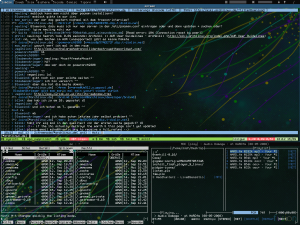 There's a ton of different window managers for Linux but certainly not many like Awesome. Awesome Window Manager is interesting to say the least. Honestly, I can't say that I enjoyed using Awesome Window Manager. I found it incredibly irritating and a pain to use. I really just did not enjoy almost anything about it. I really don't understand why anyone would want to use it.
I usually like most window managers on Linux, but Awesome really just left a bad taste in my mouth. For starters, I couldn't use it for my day to day tasks because the window decorations were non existent. If I have a pidgin message window open I don't expect a rectangle of the screen to be taken up by it. I really just hated it to be frank.
Another thing that really irritated me was 'tagging'. I don't know what was wrong with the workspace concept, because I was pretty sure that everyone was in agreement that it was an efficient way of doing things. Tagging sounds like a great idea on paper. You simply mark all your applications for use in different tags, and when you want to access them, you just click on a tag. It wasn't that it was bad, it was just that I really wasn't a fan of how it ended up working.
One thing that I got from Awesome Window Manager was that it was very rigid. Everything is in squares. With WM's like OpenBox you get a blank screen, you can add your own panel and if you right click you get an applications menu. Everything in Awesome is so sterile, so rigid and unwelcoming to me. It felt like I was supposed to fill it with terminal windows and start writing code. I know it's a tiled window manager, but does that mean it shouldn't be inviting at all?
Though I really dislike Awesome Window Manager in just about every way I can think of, I was pretty happy to see that it supported stuff like extensions. I don't have an exact list of what they are, but it supports extensions via Lua. I'm always a fan of customization so it's always a plus to see that there are many options that users can sort through to feel more at home. It's a very configurable window manager, and it totally has it's own niche audience. It sure wasn't for me.
CONCLUSION AND DOWNLOAD LINK
If you're a programmer that needs a lot of windows open at one time, or your just a fan of tiled window managers, then you might be interested in Awesome Window Manager. If you are looking for a configurable and lightweight window manager, you're better off going with Openbox. Openbox is a much more mature and better put together window manager.
Price:  Free
Version reviewed: 3.5.1
Supported OS: Any Linux Distro, BSD
Download size: 749 KB
Is it portable? No

Awesome Window Manager homepage
Related Posts