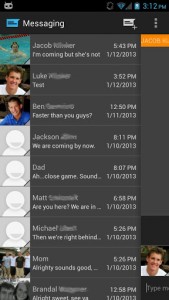 There are plenty of apps in the Play store that allow you to customize your text messaging experience in Android. For example, Go SMS Pro is one such app. Most of them change up the formula a bit and let you reconfigure your messaging interface to spice up your inbox a little bit. Some apps offer minimalistic themes that don't change much in terms of visual aesthetics, but not too many honor stock Android, or more specifically stock Google. Sliding Messaging turns your inbox into a fully swipeable interface complete with a stock Google design.
What is it and what does it do
Main Functionality
If you've ever used the Google Messaging app through Google+ on your Android then you should have a pretty good idea of what the Sliding Messaging UI looks like. It essentially transforms your text messaging app and offers gesture support to streamline the browsing experience. You can swipe from one conversation to the next, and back to your main inbox with just a few basic gestures.
Take note Sliding Messaging does not replace your default Android messaging app; it is a separate app that provides a different way to view your messages.
Pros
Implements gesture support to navigate through conversations and windows
The message compose menu always accessible
Comprehensive list of settings including theme options to change visual aesthetics
You can disable stock messaging app and use Sliding Messaging as the default, if you want
Cons
Pro version includes a lot more functionality (like MMS) but it's only $0.99

MMS works in Pro version only, along with group messaging
Only two themes available in free version (light and dark)

Uses 36MB of Ram while running
Discussion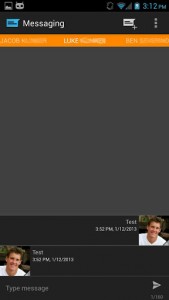 There are two versions of Sliding Messaging available, one is premium (Pro), and the other is free. For the purpose of this review we will be covering the free version of the app, however I'm going to take a moment to outline the difference between the two variants. In the pro version, you can send and view MMS, and participate in group messages. There are six more UI themes to choose from, and you can even choose a background image for your conversations. You'll also gain access to custom text colors, custom sliding animations and more.
When the app starts you'll be placed directly into your most recent conversation. You can swipe from left to right to reveal the side menu, which displays your entire conversation list. If you choose another conversation from the menu, the menu will snap back into hiding, and you'll be taken to the appropriate conversation.
At any given time, you can swipe from right to left to open the third panel which is reserved for composing new messages. You can also tap the icon in the top right corner of the conversation window to start a new message.
Hopefully I don't have to tell you how to write a text message or interact with others through them. I'm going to assume you already know that stuff. It saves me from having to cover it because quite frankly, Sliding Messaging works just like the stock messaging app in that aspect.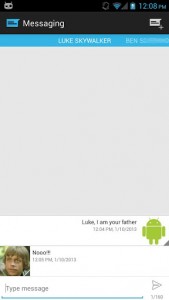 If you hit the menu button, and navigate to the application settings page, you'll see a comprehensive list of configurable options. It's just easier for me to list them out so that's what I'm going to do:
Pro version- link to upgrade
Theme settings

Choose display layout (card or classic)
Custom theme settings (only the light and dark themes are available in the free version)
Title bar settings
Sliding menu mode (fullscreen, margin, no menu)
Popup Reply
24 Hour timestamp (enable or disable)
Notification settings

Android push notifications (enable or disable)
Notification icon color
Notification Animation (enable or disable)
Ringtone

MMS settings
Smilies
Enable Emojis
Edit signature
Advanced settings

Quick reply enable
Message settings
Conversation list settings
Enable popup expanded menu
Open contact list at startup
Slide messages off screen
Run as background service
Override stock messaging app
Backup all settings
Restore all settings
Delete all conversations
As you can gather from the list above, there are quite a few settings at your disposal that allow you to customize your messaging experience. Of course, the Pro version has even more options available but that goes without saying.
The app itself is pretty straightforward. It's just a third party text messaging app that reskins the interface to work with swipe gestures. It's undeniably more convenient than the stock messaging app in Android.
For reference, Sliding Messaging uses around 36MB of RAM while it is running.
Conclusion and download link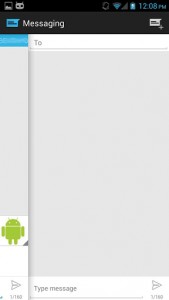 Sliding Messaging is not necessary at all. In fact, most Android launchers and apps that re skin different portions of the OS aren't anything more than a convenience. That doesn't stop anyone from using them. The whole idea of Android and open source is that you can customize the platform to work and look how you want it to. Sliding Messaging is an app that will reconfigure your entire text messaging experience. The entire UI can easily be navigated thanks to simple swipe gestures which act as shortcuts. It's funny, but you don't actually know how convenient gestures are until you start using them. Unfortunately, some of the better settings are locked down for the pro version only, but if you wanted, you could certainly make do with just using the free version. If you want a stock Google UI to use for messaging that supports basic gestures, then by all means check this one out.
Price: Free, $0.99 (Pro)
Version reviewed: 4.60
Requires: 4.0 and up
Download size: 5.2MB
Sliding Messaging on Play Store
Related Posts