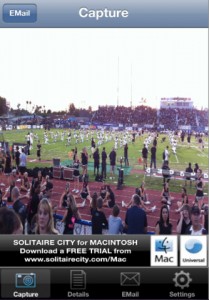 My parents and my grandparents have stacks of photo albums. They're not really into scrapbooking, so they just write notes in ballpoint pen on the back of each photograph as a way of recording when the picture was taken, where, and who is in the shot. If you want an app that is the digital equivalent of scrawling notes on the back of photos in an album, you might want to check out the free app SnapAndGo.
What is it and what does it do
Main Functionality
SnapAndGo is an iPhone app used for taking pictures, attaching notes to them, adding location info, and sharing the photos with people from your contacts list.
Pros
Send new photos, or pull photos from your Camera Roll
Attach What, Where, and When data to your snapshots, along with detailed notes or messages
Send photos with notes to any email
Cons
App is a bit sluggish and buggy: submenus and other tabs took a long time to load, or sometimes loaded incorrectly
App has not been updated once since it's initial launch, appears to no longer be under active development
Design is somewhat dated, clunky, and uncool: menus and settings could be more user-friendly
Very limited sharing options: you can only share via email, not via any social networking channels
Discussion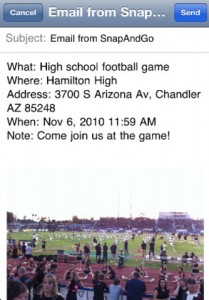 I think that SnapAndGo offers a worthwhile service: there are plenty of people who appreciate being able to add info to a photo before sharing it. Unfortunately, this app has a few problems. The primary issue is the app's lack of options for sharing photos and their associated notes. You can only share via email, but it would be nice to share via Twitter, Facebook, Flickr, etc.
The app itself is also a bit buggy: certain elements didn't load properly, or in a timely fashion. Overall, the app just seems a bit dated: justifiably so, since it hasn't gotten any updates in a couple of years.
There are some nice features: you can enter your where/when data manually, or let your device fill in that info for you. There's a "here" button that allows your phone to use your current location as the location for the snapshot.
Adding email contacts is arguably the part that takes the longest. Strangely, the Help section of the app suggests setting up the emails for your intended recipients first, and then entering event details, and then capturing the image: a bit backwards, at least in my eyes.
Conclusion and download link
I'm never one to turn my nose up at a free app, but SnapAndGo does seem to have more than it's fair share of problems. From a design perspective alone, this app lacks the sleekness and polish of the camera apps that are popular right now. It's the sort of app that I might recommend to my parents, since the controls are pretty straightforward and they don't care much about slick design. But I couldn't really recommend SnapAndGo to my parents, due to sluggish response time and some bugs.
With a metaphorical "lick of paint," this dated app could get a facelift and polish that might make it more appealing. As it stands, for now, I'm just not that impressed with the app as a whole…even though the app clearly fills a niche in the photo app market.
Price: Free
Version reviewed: 1.0
Requires iPhone/iPad/iPod Touch, iOS version 4.2 or later
Download size: 0.6 MB
Related Posts