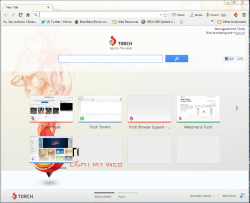 One of the best things about Chromium open source project is that it can be modified and used to create different browsers. Take RockMelt, for example, a social browser that uses Chromium technology. (Unfortunately, RockMelt has been discontinued by the developers now, but that's a different matter altogether.) Torch is another browser based on the Chromium project; it is designed for media downloads and playback. Torch's biggest feature is the built-in BitTorrent support.
What is it and what does it do
Main Functionality
Torch is a Chromium-based web browser that includes a bunch of unique features, namely the integrated BitTorrent support. It also includes support for easy media sharing, drag and drop support, and a download accelerator. There's also a relatively new feature called Torch Music that lets you share and interact with a social community, and stream music directly through the web browser.
Pros
Includes an integrated BitTorrent client

Can be turned on or off completely right from the system tray

Direct links to the Torch Music service
Designated share button to share links, and content directly with Facebook and Twitter

Supports drag and drop of videos, images, and links with pop-up menu

Media grabber can quickly grab video links for reference later
Includes a download accelerator
Very similar to Chrome since it is built from Chromium. This means not only can it use Chrome extensions but all Chrome settings, extensions, and bookmarks are imported automatically if you sign in with your Google account
Cons
Can use quite a bit of memory and bloat the system since each window runs as a new process, and the same goes for extensions (this is the same for Chrome)
Torrent client isn't quite as advanced as third party software like uTorrent or Vuze
Takes a little longer to load up than Chrome
The Torch Music service just aggregates content from YouTube. Because of this, sometimes content is missing like songs, artists or even albums
Discussion
If you've ever used Chrome before, then you know exactly what Torch looks like, and you also know how it operates. Because it's just a beefed up web browser, I'm going to skip talking about the browser features and instead focus on what makes it unique. Of course, I'll also disclose whether or not those features work well, or not.
The most prominent feature of Torch is the integrated BitTorrent support. It's not a trivial shortcut to another application or an advertisement for a third party torrent client. No, Torch includes a full-blown torrent client built-in. The Torch torrent client looks a lot like Vuze, but it also borrows elements from uTorrent and other similar clients. It works like any other torrent client, complete with quick stats, download limits, and various settings to tweak the experience. You can also start, pause and remove torrents from directly within Torch.
Moving on to the relatively new feature, also implemented is a media streaming service called Torch Music. It's aggregates YouTube content and plays it all within a proprietary interface. You can search for songs, artists and albums yourself, or you can browse popular content. The service is fairly straightforward, in that once you find something you like you can play it and continue browsing the web. You can also share what music you're listening to through social media networks like Facebook.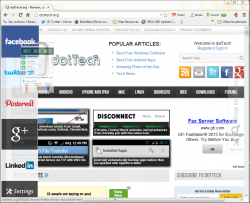 If there's a particular image or piece of content that you'd like to share, you can just click and drag it to the left edge of the screen. A window will pop-up allowing you options to directly share the media through several social networks like Facebook, Twitter, Pinterest and more. You can also drag the same content to the right side of the screen to perform a web search through one of many different search engines. The same menu pops up on the right hand side of the screen allowing you to choose which search engine you'd like to use. There's an options button for each side menu that allows you to enable or disable services.
The final unique feature is the share function, designated by a single button adorned with a heart icon. When you click on the button, a small window will pop up, allow you to share links and messages. You can choose to share the material on Facebook or Twitter. When you're done all you have to do is click share, provided you're signed into your social network of choice already.
The browser settings are exactly the same as what you'll find in Chrome, this is due to the Chromium engine. In fact, you can use Chrome extensions in Torch and if you sign into Torch with the same account that you use to sign into Chrome, it will import all your bookmarks, extensions and settings automatically.
Conclusion and download link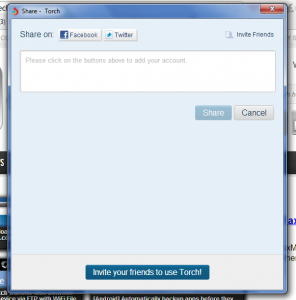 Torch is perfect for anyone that downloads torrent files because it includes a native torrent client that you can use while still browsing the web. With Torch, no other BitTorrent clients are needed. Add in the social sharing features, the Torch Music service, and all the usual Chrome support and you've got a pretty well rounded browser.
Does that mean we recommend Torch? That depends. There are plenty of alternatives out there in terms of web browsers and, being based off Chromium, Torch is quite similar to other browsers like Chrome. Personally speaking, I prefer Chrome over Torch because I don't need the extra features Torch has natively and the features I do need I can grab via extensions on Chrome. But if you do need and like the features offered by Torch, then give Torch a try.
Price: Free
Version reviewed: 23.0.0.3116 (Build 3116)
Supported OS: Windows (XP, Vista, Seven, Eight)
Download size: 1.1 MB
VirusTotal malware scan results: 0/46
Is it portable? No
Related Posts