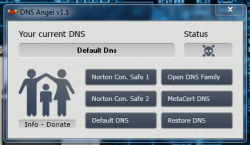 The internet is an extremely dangerous place, even for adults. At any given moment,  we can have our sensitive information stolen, run into a phishing scam, catch a virus and come across the occasional site that advocates pornography (some of those ads can get pretty risqué). As adults we know the difference between safe and hazardous environments most of the time, while children, on the other hand, do not. A child, even closely supervised can experience some pretty heinous things while browsing the internet. DNS Angel is a pre-configured application that allows you to restrict access to potentially dangerous internet content with just a single click.
What is it and what does it do
Main Functionality
DNS Angel itself does not block any porn, phishing, or malware website. Rather, what DNS Angel does is it allows you to change your default DNS server with one of several that have already been setup to prevent potentially harmful internet content. More specifically, it allows you to easily redirect your DNS server to OpenDNS, MetaCert or Norton ConnectSafe which block known adult websites (porn), malicious websites, phishing websites, and malware websites.
Pros
Allows you to quickly redirect DNS to Norton ConnectSafe, OpenDNS or MetaCert servers, which in turn add another layer of security to your computer by blocking known harmful links and content

Note: Uses OpenDNS's "Family" mode which blocks porn, not regular OpenDNS

Allows you to easily revert to default DNS, if you want
Does not need to remain running in the background; you open it, redirect to the necessary DNS servers and then close it again until you want to revert to default or change DNS servers
Quick, responsive and relatively lightweight (uses 772KB of RAM)
Portable and can run from USB drive (external storage)
Cons
The amount of content blocked is only as good as Norton ConnectSafe, OpenDNS, and MetaCert; in other words, will block known porn/phishing/malware websites but will not block unknown (not yet discovered or popular) ones
No easy way to override false positives
Does not block Google images
Not entirely clear what the difference between the "default DNS" and "restore DNS" buttons is
Switching Wi-Fi networks reverts the DNS settings back to default
Has no program or DNS protection; users can just easily switch the DNS back to an unrestricted one, but luckily children probably don't have the wherewithal to do so
Discussion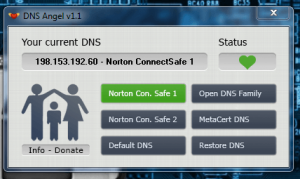 When you open the program, you'll see a fairly uncomplicated UI. There are separate buttons for each varying DNS server, and of course buttons to reset your DNS servers back to default.
If you need to start blocking harmful content, all you have to do is choose one of the DNS options and select it within the DNS Angel window. A small label window will reveal which DNS server is active along with a corresponding status indicator. If you do not have any of the recommended DNS servers active, DNS Angel will show "default DNS" in the label window and a skull and crossbones symbol in the status window.
One benefit of using DNS Angel is that you don't have to flush the current DNS settings before using it. You can actually switch between the current DNS server and revert to default all without flushing the data. Better yet, it works perfectly too. You can still connect to the internet even when the data has not been flushed. This is just a bonus for folks out there who don't know how to mess around with ipconfig in the command prompt.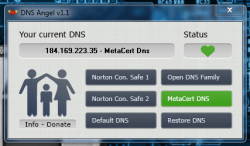 When you're finished letting your children or whoever browse on a safe connection, it's as effortless as pressing the restore default DNS button. Everything will return to normal.
In my testing, I found that DNS Angel works quite well blocking sensitive websites and links to them. It works best with questionable content like porn, so it operates like an added browsing filter. Of course, there's unequivocally no way for me to check every single harmful website or link out there so take that information with a grain of salt. As with anything that promises to defend your little ones, I would encourage you to do a little testing of your own before you rely solely on DNS Angel. I would hate to say that it works perfect and find out a little one gained access to a harmful website. These days there are so many of them too.
To be honest Norton ConnectSafe, MetaCert and OpenDNS are all monitored by professional security analysts, so I don't think harmful websites will be too much a problem. Then again, nothing is perfect.
Conclusion and download link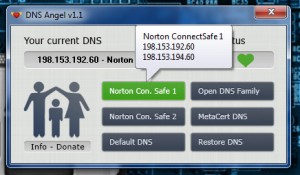 The main advantage of DNS Angel is convenience. I'm certain a lot of you dotTechies out there already know how to cleanse your DNS and replace the default server with one that's more protective. It's not a difficult task for anyone that knows their way around a computer. Unfortunately, the process can be a bit tedious if you have to swap out servers constantly when you use the internet and when your little ones do. DNS Angel makes it quick and painless. All you have to is click a button and your DNS servers are redirected to one of several professional DNS services. If you don't want to mess around with DNS settings using a command prompt, then DNS Angel is an excellent way to keep your loved ones protected while browsing the internet. Keep in mind, this software does not provide a substantial barrier against viruses and malware, so the appropriate third-party antivirus is still recommended.
Price: Free
Version reviewed: 1.1
Supported OS: Windows (XP, Vista, Seven, Eight)

Download size: 505KB (compressed), 872KB (unzipped)
VirusTotal malware scan results: 0/46
Is it portable? Yes
Related Posts