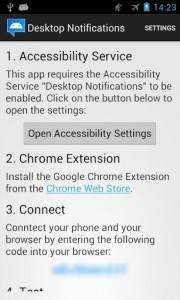 Everyone has probably been preoccupied with something and have missed some important emails, calls, text messages or social network notifications on their Android phone or tablet. After all, you can't be near your Android device all hours of the day, so it might be a good idea to invest your time in an app that can send notifications to your computer. Desktop Notifications does just that.
What is it and what does it do
Main Functionality
Desktop Notifications is an app that send all push-notifications you receive on your Android device to your computer via a Google Chrome extension and uses Google's own Chrome Desktop Notifications feature. You need Google Chrome installed on the computer you want to receive the notifications on and must install the proper Chrome extension but this can be on any platform that supports Google's Chrome Desktop Notifications feature — including Windows, Mac OS X, and Linux.
Pros
Handles ALL notifications you receive on your Android, not just some
Notifications are instantaneous; as you get them on your Android, you get them on your computer
Can be used for any computer on any platform that supports Google Chrome — Windows, Linux, Mac OS X, etc.
Easy setup and installation, and easy to use
Has option to prevent notification spam
Cons
No ability to disable notifications for specific apps — sends notifications for all apps

Note: You can disable notifications for specific apps on your Android device totally using Notifications Off to prevent getting notifications on your desktop from certain apps. However, that means you won't get notifications for those apps at all, not even on your Android.
Discussion

This is not the first time that dotTech has reviewed an app for Android that promises to bring your Android notifications to your Desktop. In the past, dotTech has reviewed DeskNotifier. Desktop Notifications is by far the better of the two. This app is better than DeskNotifier because of the simple fact that it works on any operating system that can run Chrome. Seeing as how the Chromium source code is available to compile and run on any operating system that anyone see's fit, that means this app will work everywhere.
The thing I love the most about Desktop Notifications is the simple fact that I don't need to install additional software. With some rather brilliant guesswork, the developer of this app correctly guessed that most Android users are also Chrome users. Another brilliant thing is that the developer correctly uses the built in desktop notification system that Chrome already provides. Why DeskNotifier never went this route I'll never understand.
Desktop Notifications is a very simple app, and there's not a ton of features to discuss, so I'd like to talk a little bit about setup. When I use Android apps that come in the form of utilities that bridge a gap from my Android device to my PC, I tend to be really critical of the setup. Some apps will just give you a url and a password, some apps will make you create some sort of account or enable port forwarding. Luckily, Desktop Notifications just gave me a password and told me to install a Chrome extension. Very simple, so simple in fact that nobody should have any trouble setting this app up. I really really like that.
If I were to in any way criticize this app, it would be the fact that there's not an option to disable certain apps from giving notifications on my desktop. It would be really nice to banish certain apps that I just don't wish to receive desktop notifications from. There is an option in the Chrome extension to prevent notification spam, but it's really a black and white feature and not something that can be really fine tuned.
I really enjoy using this app, and I plan on keeping it installed on my phone. Though it is a very simple, it is one of the best apps I've ever used on Android to date. It's very simple and easy to set up and it does exactly what it says it's gonna do. It doesn't tell me to install any additional programs to my computer and I appreciate that. If this review system facilitated a number system it'd get a 9.6 out of 10 from me.
Conclusion and download link
If you're looking for a great way to always be on top of your Android notifications by receiving them on your computer, Desktop Notifications is the be all, end all. It's very simple and easy to set up, and just works. I cannot recommend this app enough. What are you waiting for? Install it now!
Price: Free
Version reviewed: 1.2.3
Requires: 2.2 and up
Download size: 181 KB
Desktop Notifications on Play Store
Related Posts