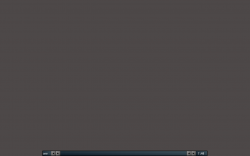 Not everyone is into the bells and whistles that modern desktops offer. Some prefer a very basic window manager for all their computing needs. Fluxbox is one of the lightest window managers to date, but how is it doing on features? Let's find out if it's worth using.
WHAT IS IT AND WHAT DOES IT DO
Main Functionality
Fluxbox is a window manager for Linux operating systems.
Pros
Apps-file feature allows users to set application specific parameters and options (dimension, decoration, default workspace for programs to open on, stickyness and etc)
Keys-file feature allows users to configure options to keyboard combinations
Supports tabbed windows
'Slit' feature allows applications to be docked to it
Root menu function allows users to browse and execute all installed applications
Toolbar allows users to switch workspaces and windows
System tray allows users to see and interact with applications docked in the system tray
Supports themes and is fully customizable
Cons
Does not look at all modern
Themes are terrible
Discussion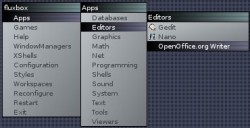 Not everyone is comfortable with the many full featured desktop environments that are available, and opt for a more basic alternative. Fluxbox is such an alternative, and I have to say, I'm not that impressed with it. It has some of the basic features that a window manager has and then some, but no features are very compelling to me. Nothing really stands out, grabs me and says, "hey! this is why you need to check out Fluxbox".
Fluxbox is far from terrible, and after looking at some of the competition, I've come to the conclusion that Fluxbox is the best of a bad situation. If you're running a computer and for some reason you haven't installed LXDE and you just want a basic window manager-y experience, this might be your best choice by far, but by no means should anyone fool themselves into using this over Gnome 3, KDE Plasma, LXDE, Enlightenment or XFCE. There's just not enough features to call it a desktop experience, yet it has enough features that I'm not sure that I'm comfortable calling it 'just a window manager'.
Fluxbox confuses me. It dubs itself a window manager, which is fine, but it has features like 'system tray' and 'toolbar' which, if it were me, would make 'desktop experience'. I am fully aware that window managers are really just X11 window managing tools that can technically be called 'desktop environments,' but are more or less just called window managers.
This window manager makes me feel like I've stepped back into 1995, and while I understand that some users generally prefer something less shiny, less flashy, and just works, I don't understand why you'd want to use this over something that takes on all of your needs. Which again, brings me to LXDE. It is my impression that Fluxbox is aimed at users that don't have a ton of memory, space, or CPU power. When it comes down to it, it just makes more sense at this point in time to go the LXDE route. I'm sure that Fluxbox had a place, but right now I don't really see it. To me the only practical application for Fluxbox at this point in time is for it to be tacked onto something like XFCE or LXDE in place of Openbox or XFWM4.
CONCLUSION AND DOWNLOAD LINK
If you're the type of person that likes a really basic window managing environment, you might like Fluxbox; or, if you're not a fan of the window manager that your desktop environment ships with then Fluxbox might be for you. If not, then you might as well pass on this one. Personally speaking, as far as window managers go Openbox is vastly superior to Fluxbox and I'd recommend checking out Openbox over Fluxbox.
Price: Free
Version reviewed: 1.3.5
Supported OS: Any Linux distro
Download size: 1.1 MB
Is it portable? No
Related Posts