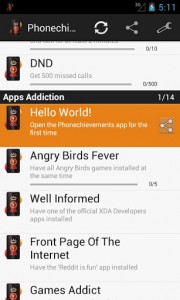 Every once in a while it's fun to cover an application that's not entirely useful in the general scheme of things, but that just adds a bit of entertainment. That being said, I love unlocking achievements. Some would call the addition of achievements into the world of gaming useless, but I don't think so. I'm of mind that it adds an extra layer of fun and gives you different goals to achieve. Wouldn't it be cool then if you could unlock various achievements for accomplishing things on your phone? Phonechievements is an app that tracks your usage statistics and awards achievements for completing various tasks with your device.
What is it and what does it do
Main Functionality
Phonechievements basically gamifies the process of using your Android phone or tablet. It's not a practical application by any means and is only meant for pure entertainment. The app awards achievements for completing various tasks like answering 1000 incoming calls (Most Wanted), not charging your phone for three days (Eco Friendly), or having all the Angry Birds games installed on your device at one time (Angry Birds Fever).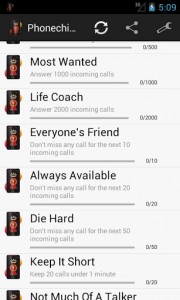 Pros
Adds a bit of fun to your normal smartphone or tablet usage
Sync data with your Google account and setup an online profile for tracking achievements
Compare your statistics and progress with other users online
You can share statistics via social media networks: Facebook, Twitter and Google+
Cons
Online profile is not so attractive and still being developed/optimized
Your online profile isn't updated unless you sync within the app (this could also be a pro)
Uses a whopping 42MB of RAM while running in the background
There's a slight delay in statistics reporting so the counters are instantly updated within the app, for example when sending a text message it will take a while for related counters to qualify this action and display it (the action is still recorded)
Discussion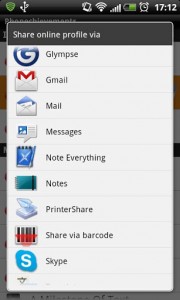 I'll save you the effort of asking why you would like this application. It's not practical, and it serves no purpose other than normal entertainment. It is a fantastic way to pass some time, however. Then again, it can also provide some pretty detailed statistics about how you use your smartphone, or tablet.
There are 99 achievements to unlock, and all are spread across several different categories like Travel Agent, Apps Addiction, Byte Surfer and more. It's just not realistic for me to talk about every achievement available. Just know that there's something out there for every kind of user.
There's not much to explain about the application itself if you complete an achievement a notification will pop in the Android notifications tray and it's highlighted in the achievements list within the app. You obtain a specific score for each achievement unlocked and all of this information is tracked by the app.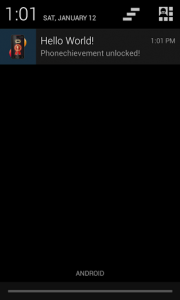 A relatively new feature allows you to set up a username that's attached to an online account, whereupon you can access your profile via any web browser – mobile or desktop- and track your progress. You can also compare your statistics and achievements to other users elsewhere in the world. If you want to see a profile example, feel free to check mine out here. Of course, that feature is still in development and is currently being optimized by the developers. In order to sign up for an online profile, you have to sync application data with your Google account, which can be set-up within the app.
You can even share your achievements via Facebook, Twitter or Google+ if you want to brag to your friends.
In the application settings, you can customize notifications with ringtones and even disable them altogether if you don't want them interrupting your typical usage. You can also enable or disable GPS queries and specify which camera the application will track for camera related achievements.
Conclusion and download link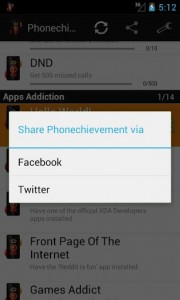 If you want to have a little fun while using your phone or tablet, and unlock achievements for completing tasks -both simple and more sophisticated- than Phonechievements is perfect for that. Keep in mind there's unquestionably nothing about this app that would be useful in terms of productivity. It's also still heavily under development, which means certain features and functions will be tweaked over time. The online profile, for example, is far from finished and will continue to be optimized for quite some time. Still, I'm a gamer at heart and I love unlocking achievements while playing. While some would argue there's no point to it, I would contend that it adds an extra layer of enjoyment for some people- me included. Using Phonechievements is just like playing a game, only you're performing repetitive tasks on your phone that would not be so fun otherwise. Check it out if you like this sort of thing.
Price: Free
Version reviewed: 1.42
Requires: 2.0 and up
Download size: 2.1MB
Phonechievements on Play Store
Related Posts