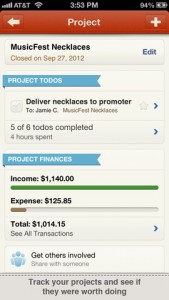 As modern people, we're all just busy, busy, busy. Whether you're a housewife or a CEO, you have some project you're working on. From launching a new product to picking out the perfect decorations for a graduation party, there is a simple project management and to-do list app that can help you. It is called Weave, developed by Intuit.
What is it and what does it do
Main Functionality
Not to be confused with the tile-based pathfinding Android game of the same name, the Weave app we're looking at today is an iOS tool for monitoring projects, to-do lists, expenses, and other business needs.
Pros
Show multiple calendars to track work projects, home projects, and birthdays
Focus on just projects due today, today and tomorrow, or this week
Attractive, clean design
Great for freelancers or employees who need to tracks purchases for corporate reimbursement: you can track both expenses and income for projects
Expenses can be tracked in any currency
Helpful tour/tutorial for new users to get oriented
Cons
A bit buggy: some text inputs were not recognized during testing, bringing the entry process to a grinding halt
Creating an account, while optional, is the only way to sync data between your iPhone and iPad
Discussion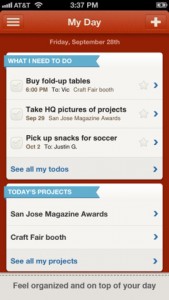 Weave is a great tool for managing your work responsibilities and projects around the house. But beyond work and home life, there are other uses for Weave as well. The developers at Intuit suggest the use of the app as a tool for planning trips and making travel arrangements, or even for use between students who are working on a group project for school. This app would also be great for party/wedding planning, bachelor party planning, or getting organized before you move house.
The Weave app itself is very simple to set up and navigate, with an excellent design that helps users feel that they're regaining control over their schedules. It is extremely simple to see the progress of each project, and I especially enjoy the ability to track project duration.
The latest version of the Weave app is Version 1.21, and includes a number of requested improvements. These include an update that allows you to see how long it took you to complete a given to-do list item, bi-weekly repeating ability for to-do list items, and an easier way to edit or delete calendar items.
Overall, Weave is a great way to stay organized, while also boosting your productivity. This app will make you more aware of how you spend your money, and also how you spend your time.
Conclusion and download link
If you struggle with tracking expenses, prioritizing your to-do lists, or organizing your projects into simple steps, Weave can ensure that you stay on top of your responsibilities. With the ability to track projects related to both work and your home life, Weave is a one-stop shop for all your project management needs, be they big or small.
Price: Free
Version reviewed: 1.21
Requires iPhone/iPad/iPod Touch, iOS version 5.0 or later
Download size: 5.7 MB
Related Posts