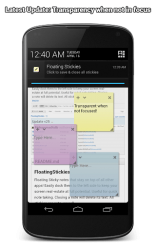 Sticky notes are absolutely phenomenal. Why? Well, because you can write short little messages and memos on them to serve as a reminder for later. Then you can stick them to a surface, or appliance –like the refrigerator- to make sure you or someone else gets the message. Floating Stickies is an application that allows you to do that very thing on your Android device. You can prepare brief notes and memos to yourself in order to help you remember important tasks, dates and instructions.
What is it and what does it do
Main Functionality
Floating Stickies is an application that inherently allows you to create, edit and store a plethora of personal notes or memos on your Android device. All windows are fully resizable, and they stay on top of any open applications (aka floating). Sticky notes can even be docked to the side of the screen to reduce clutter.
Open multiple sticky notes all at once, and they remain on top of all other windows
Sticky notes can be resized and maneuvered easily
All notes are automatically saved
You can dock the sticky notes to the left side of the screen (they are replaced with a pencil icon), to restore just drag them back onto the screen
Adds an icon to the notification tray to save and close all stickies at once
You can copy and paste text from the sticky notes, and share them with other installed apps
Inactive sticky windows are transparent
No advertisements
Cons
Uses 31MB of RAM while running
Doesn't close completely when shutdown, you need to "force stop"
Only three sticky colors available
Discussion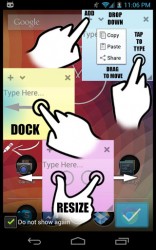 Apps like this are commonplace on the Android platform. Just the other day I reviewed a toolset called Tiny Apps that also happened to include a sticky note function.
Floating Stickies doesn't come with any advanced functions or additional tools but that's okay. After the app is installed, you can pull up several sticky notes and place them all over your screen. The sticky notes are designed to stay on top of all other windows, so you can even use them to record information from other apps.
The sticky notes can be resized, either by dragging the bottom right corner around or by employing the traditional pinch gesture.
In the top left corner of each sticky note is a plus icon that will allow you to open a new note instantly by tapping on it. Next to the plus icon is a sub-menu link that allows you to copy, paste and share the content in your sticky note.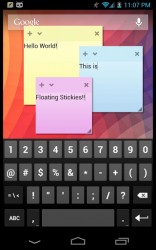 All stickies are automatically saved, so you don't have to worry about losing your work or content. Even a device reset won't ruin the content. Don't worry though, you can delete the content and the sticky note by simply closing it.
One particularly unique feature is the option to dock sticky notes to the left hand side of the screen. When you drag a sticky note to the left side, it will disappear, and a pencil icon will appear in its place. To re-open the sticky note all you have to do is tap on the pencil icon and drag your finger to the right to bring the sticky note back onto the screen. You can dock multiple stickies at once, and you'll just have a bunch of pencil icons on your screen if so.
An icon is also added to the Android notifications tray, and if you tap on it then it will save and close all stickies. Once you start the application again your stickies will appear, but any that were previously docked will no longer be.
For reference, Floating Stickies uses 31MB of RAM when running in the background.
Conclusion and download link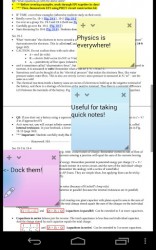 Floating Stickies is an impressive app. Personally, I prefer it to the stock Android sticky note widget; it's pretty much the same concept, yet Floating Stickies makes use of some unique functionality, like the option to dock or float notes. Also, useful is the fact that the sticky notes are automatically saved, and content still exists even after a reboot or battery pull. The only real downside to the app is that it uses 31MB of RAM while running, which isn't as light as I'd like it to be. Still, the window animations and various note colors add to the appeal. You can also copy and paste text from notes, or share it directly with other applications installed on your device. Overall, there's pretty much no hassle involved, meaning you can just install it and go, and that bodes well for anyone that isn't very tech-savvy. If you're looking for a sticky note or memo app for your Android, I recommend checking this one out.
Price: Free
Version reviewed: 27.0
Requires: 2.1 and up
Download size: 294KB
Floating Stickies on Play Store
Related Posts