Not very happy with most of the choices of shortcut docks or panels in Linux nowadays? Introducing ADeskBar. It gives you a ton more customization options than other panels. ADeskBar is designed specifically to work with Openbox but can be used with any window manager  or you desire. Let's see if it's worth your time, shall we?
WHAT IS IT AND WHAT DOES IT DO
Main Functionality
ADeskbar is a panel/dock for Linux.
Pros
Excellent Openbox integration
Easy to set up
Lightweight with a low memory footprint
Built in using Python
Fully customization
Support for widgets or 'docklets'
Built with GTK
Cons
Discussion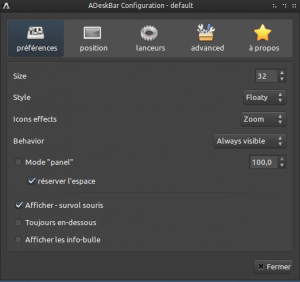 It's no secret that I love Openbox, out of all the window managers that I have to choose from, it's usually the one that drags me in. One thing that irritates me about Openbox is the lack of a panel or taskbar. ADeskBar solves most of the problems that I have. I've even gone so far as to make a custom session with both Openbox, ADeskbar and Nautilus. Nautilus would handle the desktop, icons and wallpaper, Openbox would obviously be the window manager, and ADeskBar would be the panel. All of this was done inside the Openbox session and let me tell you, it was probably one of the lightest desktop experiences that I've ever had — and I've used quite a few panels. Not a lot of panels are very well designed, so it's nice to see such a well put together one.
The thing that I love most about it is the simple fact that it is basically built for use inside Openbox. That's pretty awesome because outside of LXpanel, not too many docks or panels are created specifically with Openbox in mind. Another really great thing about it is that it has panel widgets or helpers. ADeskBar's widgets might not be quite as complicated as Docky's 'dock helpers,' but it adds a really nice touch.
I don't really have anything bad to say about it outside of the fact that there's not really any pre-determined themes available. You can customize the entire panel, you can even turn it into a dock. I'm not sure that It's really that big of a deal to not have skins, but I prefer them because it gives me more of a feel for what I can do with the panel. Basic color customization options, the ability to change size, float and opacity is nice, but I wish there was more.
All in all, ADeskBar is a wonderful panel/dock. I really like the styling and look of  One that I'll continue to use in the future if I ever get bored of XFCE or Gnome Shell. It's a very simple looking panel but it looks incredibly modern, and with most desktop environments and panels going for a fancy look, it's nice to see that it has a bit of style.
CONCLUSION AND DOWNLOAD LINK
If you're not happy with most of the panels that are available on Linux, ADeskBar is a great option. It can be used on pretty much anything and can easily be configured to work with your custom Openbox setup. If you're really into using pure Openbox and you're not happy with whatever panel you're using right now, this panel is probably one of the best options available. With all of the customization options that it has to offer, you'd be crazy not to try it out.
Price: Free
Version reviewed: 0.4.3
Supported OS: Any Linux distro
Download size: 236.6 KB
Is it portable? No
Related Posts