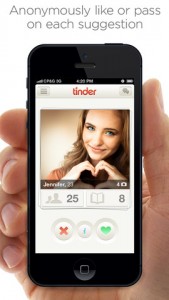 There's a reason most relationships begin when two people are introduced to each other by a mutual friend. For whatever reason, human beings are more comfortable around people that have been given a "Seal of Approval" from a trusted source. But what do you do if you're in a new city or some other unfamiliar place? How do you break the ice and meet new people. With a social networking app like Tinder, meeting new people is fun, easy, and stress-free!
What is it and what does it do
Main Functionality
Tinder lets you make a pass, risk-free and anonymously, at the people around your current location. Tinder shows you other users in the area, and you can "skip" or "approve" of them. If they like you, too, Tinder "introduces" you to each other, and can you chat within the app and get to know each other better.
Pros
Tinder tracks all of your past matches, making it easy to reconnect again in the future
Easy login with Facebook that protects your privacy (the app will never post anything about you to Facebook: others won't be able to contact you unless you've been matching through mutual adoration.
Profiles and images load faster than in previous versions of the app (and profile photos are bigger and easier to see than ever before)
Cons
You can only log in with Facebook
Some users have complained that the most recent version of the app (Version 2.0.3) is buggy, and has deleted previous match data!
Discussion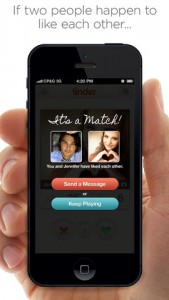 Walking across the room, only to get shot down, can be a total shock to your confidence. Thankfully, Tinder gives people a less obvious way to indicate their interest, which helps you to save face in the event that you get rejected.
The app interface itself is very simple, streamlined, and easy to use. The profile pictures are bigger than in previous versions of the app, which ensures that you can get a really good look at a person before indicating your interest. I also love that you can chat within the app, and that Tinder also keeps a listing of your past matches.
Despite some user complaints about lost data or buggy, laggy experiences within the app, Tinder was bug-free during my tests with an iPhone 4s. Your experience may vary, so it may be wise to go into the app expecting some issues…at least for this version of the app.
That being said, I'm not super happy about the app's focus on Facebook integration. Email login seems like it would be a better choice to me. However, I do appreciate that Tinder takes privacy very seriously!
Conclusion and download link
If you tend to be a bit shy at nightclubs or parties, Tinder is a great way to break the ice. The only thing that would make this app better are some actual icebreaker questions to help start off your conversation! Despite some minor issues in the current version, Tinder is an all-around solid app that can help you meet cute, interesting people that are only an arm's length away. If you want to see if sparks will fly between you and someone else, this app is a great way to reach out.
Price: Free
Version reviewed: 2.0.3
Requires iPhone/iPad/iPod Touch, iOS version 6.0r later
Download size: 8.9 MB
Related Posts