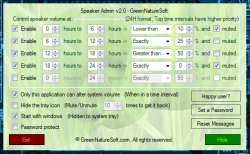 F.lux is a remarkable app that adjusts screen brightness according to the current time in your area. In fact, there are a few apps out there that do the same, and for good reason too. When you stop to think about it, there are other components in your computer that would benefit from similar functionality. What about when you're browsing a computer late at night when your family is sleeping? Have you ever experienced a time where a random advertisement blared through your computer speakers at a deafening volume level? I certainly have. Speaker Admin is a program that automates the audio levels on your computer depending on the time of day.
What is it and what does it do
Main Functionality

Speaker Admin will automatically assign a set volume level depending on the time of day. For example, the app can automatically mute or mitigate noise levels late at night and crank it up to full blast again in the afternoon. In my case, I have my desktop set up in my living room connected to my main TV. Because I watch content regularly with it, the sound levels are always higher than normal. This can be quite bothersome late at night when I'm browsing the internet and my significant other is sleeping in the next room.
Pros
Volume settings are straightforward and quick to setup
Program settings can be password protected
System tray icon can be hidden from view, and called back with a customizable mute/unmute variable
Set to start with Windows by default (this option can be disabled)
Can lock volume controls to Speaker Admin only, other system apps and tools won't be able to alter the volume levels
Incredibly light on resources and easy to use
Cons
Installation package includes bloatware (Shield and Unfriend Watcher)

The Speaker Admin install package will download several bloatware applications if you're not paying attention, namely Shield, and Unfriend Watcher. Just make sure you press "skip" during the install process to prevent these packages from being installed on your machine.

The UI is not exactly what you'd call attractive

There's nothing stopping users from uninstalling the application when it's security locked
Mute/unmute function to restore system tray icon can be tedious (continuously mute and unmute the system to regain access)
Discussion

The first thing you'll notice about Speaker Admin is the rather colorful user interface. If you didn't put two and two together already, the green background is because of the developer, which is aptly named GreenNatureSoft.
That being said, you won't get lost when trying to navigate the user interface and that certainly counts for something. Speaker Admin is relatively easy to use, and adjusting volume settings is pretty straightforward.
To set a volume limit is easy, from the dropdown menu you choose the value increment you'd like the volume to stay above or below. Then in the format dropdown box you can choose 'lower than', 'greater than' or 'exactly' limits. For example, let's say at night you don't want the volume to exceed 5%, all you have to do is set the value dropdown to 5, and the format dropdown to 'lower than'. If you're still confused by that description, then check out the screenshot directly above, the volume setting depicts exactly what I've described.
If you want the sound to be muted during a certain time, then all you have to do is check the box next to the "muted" option.
There are some unique settings that are quite useful too. The "only this application" option will prevent other system tools and apps from altering the volume during the day.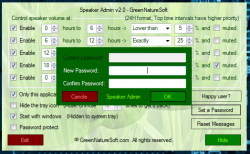 The system tray icon for Speaker Admin can also be hidden in order to prevent other users from gaining access and changing the volume. This is particularly useful if you have the software installed on a family computer and don't want children playing with the volume levels. In order to gain access to the system tray again, you can customize a mute/unmute variable. The default setting, to regain access to the system tray, is to mute and unmute a total of ten times in a row. Of course, the amount can be changed in case you think that muting and unmuting your machine ten times in a row is quite frustrating, like I did.
You can password protect the program settings too, in order to prevent unauthorized access.
While running in the background, Speaker Admin uses anywhere from 7,000 – 11,000KB of RAM at any given time. To translate, that means it's pretty light on resources and shouldn't have any effect on even lower end systems.
Conclusion and download link
There's not much to Speaker Admin. It does exactly what it advertises, and most of the settings are related to the automation of the volume level. Advanced security features like the options to hide the system tray icon and password protect the settings are perfect, especially when the software is installed on a family computer. If you're at all interested in leaving the volume levels to automation software like this, then Speaker Admin is certainly a good choice. It's light on resources and is incredibly easy to use and setup. If you don't mind handling the sound levels yourself, then you probably won't need this app.
Price: Free
Version reviewed: 2.0
Supported OS: Windows (XP, Vista, Seven, Eight)
Download size: 162KB (unzipped)
VirusTotal malware scan results: 6/46
Is it portable? No
Related Posts