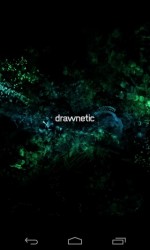 I'll be perfectly honest with you. I'm an extraordinarily creative person, so I love making things, and that includes writing and drawing. I write all the time, but I don't draw consistently enough to hone my skills, so I'm not as adept at it. When it comes to drawing on my mobile device, forget it. I've tried several drawing applications in the past, and I came up empty handed every time. Before you ask, yes I'm terrible at Draw Something. Drawnetic is a fun sketching app that allows you to animate various drawings and turn them into beautiful masterpieces. It's perfect for anyone creative, and it's especially useful for people like me who are not so talented at drawing.
What is it and what does it do
Main Functionality
Drawnetic is a remarkable sketching app that allows you to draw on your smartphone or tablet and then animate the results. The animation actually happens as soon as you pick your finger up off the drawing board, unless you change the default settings. It's a trippy experience, but lots of fun at the same time. You can create some pretty stunning images with Drawnetic even if you're not that skilled at drawing or sketching.
To better see how the application works check out this video demonstration: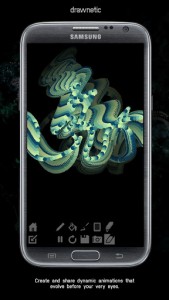 Pros
Allows you to create beautiful and stunning artwork with just a few simple finger gestures
Exclusive social community of artwork to download and explore
Tons of settings to alter the sketch and animation process
Extremely easy to use interface
Cons
Lengthy loading times, both initially and when starting a new drawing
Lag or poor framerates can ruin the experience, but there are settings included to make it better like particle count and lowest framerate
If you really want to draw an elaborate sketch or image you have to make sure to pause the animation first, this can get frustrating sometimes
Optimized for Samsung devices, and clearly has issues when using the app with other brands (to be fair this is explicitly mentioned on the Google Play page)
Discussion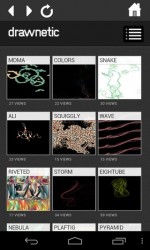 The first thing worth noting about the app is that it was specifically designed for Samsung devices like the Note, Note II and SIII. It will work with all Android devices running version 2.2 and up but other devices might run into complications.
Drawnetic isn't just an illustration app, it's also a social window. Some may be turned off by this simple fact, but that's okay. You can share drawings both user created, and those downloaded through the app, with friends on Facebook.
The real social part of Drawnetic, however is due to the online community of artists. You can connect to a cloud network to download and view drawings uploaded by other users. Once you've created a masterpiece you can even upload your own images to the cloud. Keep in mind that downloaded images are stored locally on your device.
From the main screen of the application, you have different routes to take. You can view one of nine different preloaded drawings, create your own animated sketch, explore the cloud (social community), mess with the application settings, or get help with using the app.
The help section essentially just offers a basic description of each function available, and it's by no means comprehensive. Don't navigate to it expecting to find all kinds of user guides and tutorials. The best way to learn how to use the app is actually to experiment with it. Clearly this is why the developers chose to offer only a brief description of each function.
When you tap the pencil icon on the main menu, it will take you into the drawing palette. This is where I created some of the most magnificent masterpieces of my time. Instead of describing the drawing tools one by one, I'm just going to list them out for you and provide a brief description. Don't worry they're pretty straightforward.
Home- clearly this icon sends you to the home screen of the application
Brushes- this tool allows you to choose the type of brush you use for drawing and various animation settings that occur after you take your finger off the drawing canvas
Paints- obviously this is where you select the paint colors

Image- you can import images from your gallery to play with (they appear as the background)

Stroke Dynamics- here you can change various settings for the drawing strokes like animation speed and width
Background- this allows you to adjust the background color, which is black by default
Hide menu- this is pretty straightforward
Pause- this pauses the animation after it starts playing
Playback- this resets the sketch and animation to the beginning and plays it back from when you first started drawing
Save to cloud- another self-explanatory option, you can assign the sketch name and related tags before uploading
Save locally- allows you to save the image to your device
Erase- clears the whole sketch and any associated animations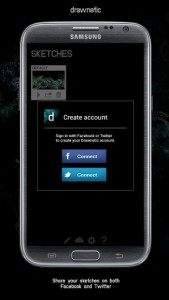 To sketch, you simply chose the brush and modify the various palette settings and then swipe away. Nothing will happen as far as animation until you lift your finger off the screen for the first time. That's when things start to get real trippy.
On some devices,  the screen will lag at this point or experience a framerate drop, obviously this is because the software was optimized for Samsung devices. In the settings menu,  you can reduce the particle count and lowest framerate to remedy this situation. On my own device, a Motorola Droid Bionic, I still experienced a bit of slowdown even with the framerate and particle count turned down.
Conclusion and download link
Drawnetic is a pretty neat sketching app to waste some free time. If you're not a particularly good artist, like me, then it offers you the opportunity to create some truly enchanting material. You can also download images and animations stored in the cloud, which is an exclusive social community of Drawnetic artists. Images are stored locally on your device if you decide to keep them, and so are those downloaded from the cloud. The biggest issue I have with the app, aside from the occasional slowdown, is due to the excessive loading times. The first time you open up the application, and after choosing an option, the app will take a while to get to where it needs to be. Still, it's fun to play around with the drawings and animations and experiment with different settings. If you're creative and you happen to have an Android device then you should at least try this one out, especially if you have one the Samsung devices mentioned above. I'll save you the trouble by saying there's nothing about this app that you need. It's purely for entertainment purposes if you decide to download it.
Price: Free
Version reviewed: 1.0
Requires: 2.2 and up
Download size: 23MB
Related Posts