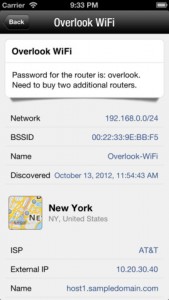 Don't you hate it when your Internet is slow? There are tons of reasons that this can happen, but sometimes the culprit is an annoying neighbor who is hogging all your bandwidth. If you have an unsecured Wi-Fi connection, or if someone has figured out your password, this can explain why your connection seems so slow. If you suspect someone is piggybacking onto your Wi-Fi signal, a quick app that can let you know for sure is Fing, developed by Overlook Soft.
What is it and what does it do
Main Functionality
Fing allows you to see any and all devices that are currently on your Wi-Fi network.
Pros
Allows you to scan an unlimited number of networks and discover an unlimited number of devices
Device manufacturer is showcased, allowing you to easily sort out which devices are being found
Fing keeps a history of all your previous network searches and discovered networks
Sort devices by IP address, Name, or Vendor
Also available for Windows, Mac OS X, and Linux
Easily shows you which IP address is linked to your current device
Targeted towards both casual users and IT professionals
Perfect for seeing if your neighbors are piggybacking off your Wi-Fi
Easy to add names of each devices
Send an email with your complete Fing report with just one tap from within the app
No ads, despite being a free app
Cons
Lacks visual customization options
App doesn't automatically scan networks at start-up
Intelligent icons don't always hit their mark
Discussion
One interesting aspect of the Fing app is that it integrates with Fingbox. This means that you can sync your network searches, or back them up for later review. You can also monitor networks and get notifications if there are any notable changes.
One thing that might annoy some users is the fact that Fing doesn't automatically scan your network when you launch the app. One the one hand, that means the app launches very quickly. On the other hand, it can be annoying to have to manually initiate new scans.
One thing that is nice about the scanning process is that you have a constant tally of devices that have been on your network. For example, if you see 6/8 displayed, it means that 6 devices are currently connected to the network, out of 8 total devices that had previously been detected.
Another minor annoyance are the "intelligent" icons. You can see in this screenshot that there are icons for all kinds of devices: the app assigns them as intelligently as it can. However, nearly all of my icons went to the "generic" default, and I had to assign them manually. That being said, there are tons of icon options, from common things like phones, iPods, media players, and gaming consoles, to more uncommon home items like projectors, thermostats, surveillance equipment and NAS storage.
Conclusion and download link
If you want to know who is sharing the connection you're on right now, Fing is a great free tool for doing so. It is simple to use, intuitively designed, and quite sleek overall. Despite a few minor quibbles, this really is a great app.
Price: Free
Version reviewed: 2.0.7
Requires iPhone/iPad/iPod Touch, iOS version 4.3 or later
Download size: 5.0 MB
Related Posts