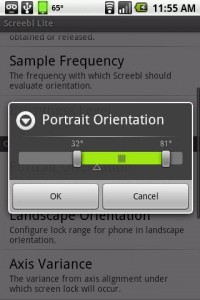 Ever been reading something on your Android phone or tablet when the screen suddenly turns off? Or maybe you are not reading but are using your phone or tablet for something else. Wish you could solve this problem? Screebl Lite is here to help; it identifies when you're using your phone or tablet ensures your display is lit during that time. It claims to save you battery by only keeping your device's screen on when you're actually using it. Let's see if it's worth it, shall we?
What is it and what does it do
Main Functionality
Screebl Lite is a background process app that guesses if you're using your phone or tablet and prevents your screen from dimming or sleeping. This includes while you are reading, surfing the web, watching a video, etc.
Pros
Detects when you're actually using your phone and when you aren't using it, so it doesn't always keep your screen on
Can help save battery life
Easy to set up and use
Cons
Paid version has more features
Last updated May 23, 2012, which is over a year ago
Discussion
Screebl Lite is a wonderful app that accomplishes a very simple goal. Keeping your screen on when you're actually using it. If you've ever been using your Android device, you know what I'm getting at. Countless times I have been reading tweets, or a webpage etc and my device's screen turns off. It's really irritating. With Screenbl Lite, this problem is solved. It uses your Android device's gyroscope to determine if you're actually using your phone. Brilliant concept.
The best thing about this app is the fact that it can easily help you save battery. No more screens turning on in pockets. For an app with such a simple concept, the results are awesome. I saw an incredible increase in battery life. Went up about 2 to 3 hours. I'm pretty happy about that. I was also pretty excited to see that it was very easy to set up. An app that is so useful is also thankfully easy enough for everyone to use it.
One think that is kind of disappointing is the fact that there's a paid version with tons more features. The lite version of Screebl is good enough for my needs, so I don't really see any need to donate. That is, unless there's some sort of awesome features that they've added that I just can't live without. Another bummer is that this app hasn't received an update since May 23, 2012. Normally, this would bother me, but as this app is such a simple concept, and I've had no issue running it on 2.3.6, 4.0.4 and 4.2.2 it's not a major issue in my book. This app doesn't seem to be the type that requires constant fixes, but I'm sure that the developer hasn't neglected it.
All in all, I really like Screebl Lite. It works wonderfully when I'm trying to read a website or really anything that requires a lot of staring and not so much touching. It's saved me a ton of battery life and I'm a huge fan of it. The developer hasn't given it an update in a while, but even if an update doesn't surface it won't bother me. The app works so wonderfully.
Conclusion and download link
If you're in need for a way to rid yourself of screens that dim and sleep while you're in the middle of something, Screebl Lite is perfect for you. It'll help you keep your phone's screen on when you actually want it on, it'll even save you some battery life too.
Price: Free
Version reviewed: 2.8.4
Requires: 1.5 and up
Download size: 351 KB
Related Posts