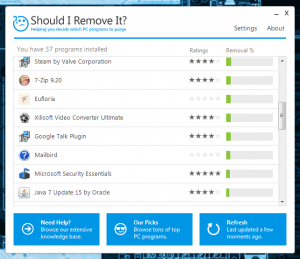 When it's spring cleaning time or just time to remove some junk from your computer, it can be difficult trying to figure out what software to uninstall. Personally, I always seem to have a lot of apps that I swear I need or will use again, but realistically they're just taking up valuable resources. Should I Remove It is a free program that will scan and analyze the applications installed on your computer and help you identify which ones should be removed.
What is it and what does it do
Main Functionality
Believe it or not, Windows slows down over time as it expands. Actually, you probably know that already, but that's okay. The boot time gets longer, startup time (login) takes longer, and sometimes performance can even suffer. One of the best ways to combat this issue is to remove any unused programs to get rid of any extra junk that may be slowing you down. Should I Remove It helps you determine exactly what software to get rid of; it analyzes your installed programs and provides suggestions as to which ones you should uninstall.
Take note while Should I Remove It can potentially help you identify malicious programs that you have unknowingly installed, it isn't intended for that purpose. The best use of Should I Remove It is removing bloatware.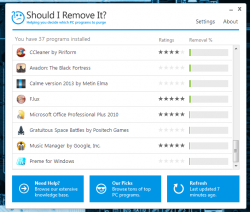 Pros
Provides direct links to What Is It and to uninstall each program

What Is It- Detailed information about what a program is, but it requires an active internet connection because What Is It takes you to a website in your browser
Uninstall- directly uninstalls the selected application (does not just take you to the Add/Remove Programs

User ratings and removal percentage ratings provide insight about what others think of a particular application and if it should be removed or not
You can set the software to run automatically once per month
There's an option to clear the app (software) cache
Works with 32-bit and 64-bit programs
Clean UI and extremely easy to use
Light on resources, as it only uses about 10,100KB of RAM
Cons
VirusTotal scan turned up 2/46


The VirusTotal scan yielded results of 2/46; Comodo and DrWeb identified this program as Heur.Suspicious and Trojan.SMSSend.4041, respectively, while all other anti-viruses/anti-malware found it to be clean. I also manually scanned the install package with several additional security scanners including Microsoft Security Essentials, Avast, and MalwareBytes AntiMalware Pro and they also turned nothing up. This means DrWeb and Comodo are probably suffering from a false positive, but do what you will with this information; if you don't feel comfortable, don't download this program.

Some (more obscure) applications do not have a dedicated description page (i.e. don't have a What Is It page) or have little information on their page
It should be nice if Should I Remove It provided stats as to how often you use a particular program, which would assist in your decision making if you should uninstall it or not
Requires .NET Framework 3.5 or higher
Discussion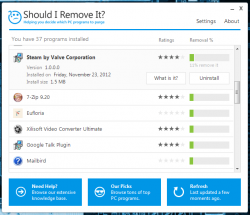 One thing that I really appreciate about Should I Remove It is that unlike some of the other application cleaners out there, it doesn't automatically start the cleanup process. This may seem backwards to some, but to me it just makes sense. The program will analyze software currently installed on your machine and provide suggestions about which ones you should remove (hence the name), letting you decide — not making the decision for you.
Sometimes there's an odd occasion where you don't really know what a program installed on your computer is, or what it does. That's okay, because Should I Remove It puts you directly in touch with detailed information about everything it analyzes. It does this in part, thanks to a server based system. To answer the next question you'll have, yes the application works perfectly fine without an internet connection.
The feature that actually requires the internet connection has to do with the detailed reports that are offered. With each application there's a link called "What is it?" Clicking on this link will open your web browser and it will automatically take you to the dedicated application page on the program's servers. The dedicated page provides an extremely detailed report with things like a description, files installed by the application, standard behaviors of the app, and more. Of course, if you have no internet connection then you cannot take advantage of this feature.
To give you an example of what a software report looks like, visit this page which provides a description of Valve's digital distribution platform Steam.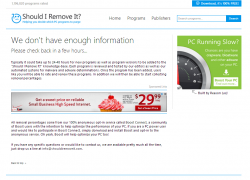 One thing I ran into when using the information database, is that some of my installed applications did not exist on the company's servers. In other words, they had no clue what the software is. I was certain something like this would happen because the software in question is pretty obscure. In fact, I'd probably be more surprised if I had found information on the software. Still, seeing a big message that says "we don't have enough information" can be discouraging.
Every application is given a removal percentage rating and a user rating. The removal percentage rating tells you how often other users and "experts" actually remove the software. The user rating tells you what "experts" and other users actually rate the app in general. This information kind of gives you an idea about how valuable the software is. If you have no active internet connection than the software will use the ratings stored in cache. Strangely enough, if the cache is cleared and there's no active internet connection the software will still offer ratings but my guess is that these are stock ratings included with the software.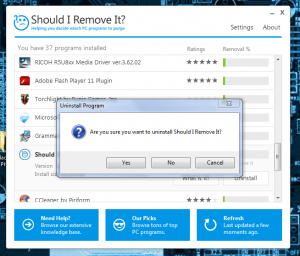 When you choose the uninstall button, the uninstall process for the related application is automatically launched. Unlike some software programs that are similar, Should I Remove It does not just take you to the windows add/remove window. Hopefully I don't have to inform you how convenient this feature is. If you accidentally hit the button you should be okay, there's still a secondary prompt to confirm in order to start the uninstall process.
There are only two options available in the application settings menu. One allows you to clear the software cache, and the other allows you to run the program on a monthly schedule. If the latter option is enabled than Should I Remove It will add a scheduled task to the Windows system.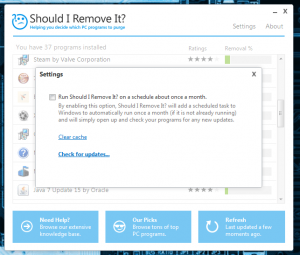 The application UI is extremely straightforward. Even someone who is not good with computers would be able to use this software without running into any significant problems.
For reference it's relatively lightweight and only uses about 10,100KB of RAM while running in the background.
Conclusion and download link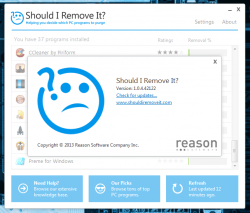 Should I Run It is incredibly useful for anyone that wants help removing unused programs, excess software, or bloatware that are installed on a Windows PC. If you're a more advanced user then chances are you don't really need something like this, but even so it's definitely convenient. And if you aren't an advance user, the decision is a no-brainer — get Should I Remove It and let it help you help yourself.
Price: Free
Version reviewed: 1.0.4.42122
Supported OS: Windows (XP, Vista, Seven, Eight)
Download size: 1.17MB
VirusTotal malware scan results: 2/46
Is it portable? No
Related Posts