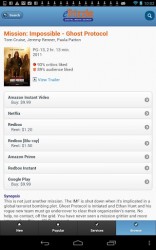 Internet based media streaming services are awesome. Most of them are cheap, cheaper than premium cable anyway, and offer a wide selection of content. There's one pretty obvious issue that stands out, especially when you use more than one streaming service. Finding content to watch through any of those services is not always easy to do. eTrizzle is a free application that will help fix that problem, by scanning various streaming services and telling you what's available to watch and where.
What is it and what does it do
Main Functionality
eTrizzle is a movie database application that queries and displays available titles from a wide selection of streaming services. It's specifically designed for those moments where you want to know what streaming service offers a particular movie. Better yet, the app even offers detailed reports about each movie, user ratings and more. Compatible streaming services include iTunes, Crackle, Amazon Instant Video, Netflix, Redbox, Amazon Prime Instant Video, HBO Go, Redbox Instant and more.
Take note eTrizzle finds both free and paid movies but most of the movies it finds are paid (i.e. pay per movie or purchase a monthly subscription) because eTrizzle searches official distribution outlets and not piracy websites.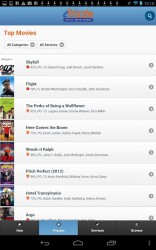 Pros
Queries information from a wide selection of media streaming services (listed below)
Lists rental prices and purchase prices, if no price is listed it's available for streaming
Includes a universal search function, meaning you can search for movies by looking up titles, actors, directors and more
Includes movie ratings from Rotten Tomatoes and Fandango
Cons
Does not include information about TV shows — just movies

UPDATE: After we published this review, the developer issued an update to eTrizzle to include TV shows

USA and Canada only
The UI is not all that appealing (but this is only a minor nuance)
Uses about 72MB of RAM while running in the background, which is quite a lot
Discussion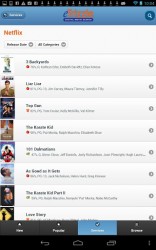 The first thing I'll address is what media streaming services this app queries. Keep in mind that more services may be added over time (you can check the build number of the version I reviewed below).
Google Play
Amazon Prime Instant Video
Redbox
Netflix
Redbox Instant
Amazon Prime
Crackle
HBO Go
Comcast Streampix
Hulu
Vudu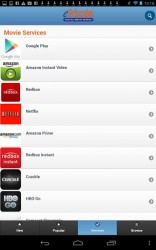 Now that's out of the way, we can get to what the app actually does. If you've ever used IMDB, or Movie App HD before then you should already be pretty much acquainted with eTrizzle. It's a movie database that includes details about each movie such as a synopsis, review scores, trailer links and more.
The real benefit of using eTrizzle is that it includes pertinent information for each movie from the aforementioned media streaming services. If a movie is available for rent or to purchase, then the application lists prices. If a movie is available for streaming (free streaming or streaming via a monthly subscription like on Netflix), there are no prices listed, and that's exactly how you know it can be streamed.
For example, if I want to watch Transformers without using eTrizzle I would have to look through each media service's catalog to see if it's available for streaming. Alternatively, I'd have to look through other catalogs to see if it's available for rent or purchase. With eTrizzle, I can see all that information conveniently through one app.
One thing in particular that could use a change is the user interface. It's not complicated, in fact eTrizzle is really easy to use. The design however leaves a little something to be desired.
Across the top of the window is the search bar, which you can obviously use to find a specific movie, by entering actor names, movie titles, directors and more. The bottom of the window includes navigation tabs for the different categories, which are as follows:
New- displays new movie releases
Popular- displays popular movies
Services- lets you browse movies by streaming service, this comes in handy for when you want to find something through a particular service like only Netflix
Browse- allows you to browse movies by genre, but also includes three additional categories like free, available for streaming and top movie lists
eTrizzle is great at what it does and it definitely makes the process of looking for movies across various media services easier. The design could do with a makeover, but that's okay because the app is still responsive and easy to use.
Also worth noting, the app uses about 72MB of RAM while running in the background, which is a significant amount. If you use it, you'll definitely want to close it when you're done researching movies.
Conclusion and download link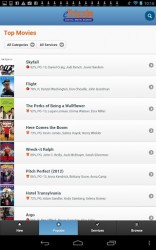 eTrizzle is incredibly useful if you are subscribed to multiple media streaming services, or you make a habit of scouring through multiple content catalogs to watch movies It's a great way to figure out which service offers a particular movie. Best of all, it's easy to use — simple to find what you're looking for and responsive. The major downside is that it uses quite a bit of memory, and the UI isn't all that attractive but those are hardly deal-breakers. If you're tired of having to manually hunt down movies across multiple streaming services, than be sure to check out eTrizzle.
Price: Free
Version reviewed: 1.0.1
Requires: 2.1 and up
Download size: 682KB
Related Posts