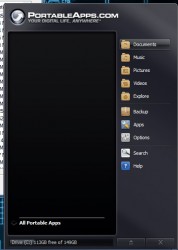 Portable apps are incredibly useful not only because you can run them from an external USB drive and take them with you wherever you go but also because you can use them on your computer without installation. Being able to run a program, on any computer, without having to install it — or running it via USB drive — is incredibly useful. Essentially, it allows you to carry a digital briefcase around. PortableApps is a unique platform that will help you build an entirely portable app portfolio.
What is it and what does it do
Main Functionality
PortableApps will help you set up a platform of portable apps, which you can take with you wherever you go. All applications are installed to a directory of your choosing but they will operate as standalone programs. PortableApps also includes a launcher, modeled after the Windows start menu, which includes all your portable apps in a convenient list menu.
Pros
All apps usable with PortableApps are free and portable (over 300 programs available, all updated regularly) and are easily downloadable directly from the launcher settings

Comes with a launcher window that helps keep all your portable software organized and quickly accessible
Launcher window theme can be customized
Launcher is lightweight — only uses about 11,000KB of RAM
If Windows autorun is enabled, then the launcher will load as soon as you plug in your USB drive
Includes backup feature
Can automatically check for updates to apps you have downloaded
Launcher settings allow you to perform advanced functions

Filter to show only open source apps
Show only installed apps
Disable app splash screens
Remove the word "portable" from app names
More
Cons
You don't need this PortableApps launcher to be able to download and use the portable programs offered by PortableApps. You can easily download and use portable programs from PortableApps' website without downloading this launcher. If you want, you can not download PortableApps launcher and instead just download the software you want.

Note: I'm not saying being able to download portable apps separate from PortableApps launcher is a bad thing. It is, obviously, a good thing. The point I'm trying to get across is that this PortableApps launcher doesn't provide you access to portable apps that you couldn't get without it.

Some of the file structures are unnecessary, as there are files for documents, photos, and more

No security features; if you lose your USB drive someone could easily gain access to some pretty sensitive material
When installing apps, you can't see total space that the selected apps will take up, in other words you have to manually figure out how much space you're using
Games are also included in the PortableApps catalog (I included this as a con simply because I know many people are not looking for games, but it's not a bad addition)
Whenever you interact with another menu or focus on an alternate window the launcher closes, this can become a nuisance at times
Discussion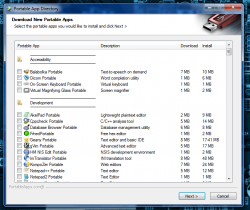 During installation, PortableApps will prompt you to designate the install directory. I highly recommend you point the install package to your USB drive. This will set up the PortableApps launcher with the appropriate file structures and everything.
You also need to choose the portable apps you would like added to your device during the initial install, so make sure that you pay attention. Most of the apps just require a simple download, but some also have a standard install process like Google Chrome Portable. All of the listed apps are free, so you don't have to worry about paying for anything.
This is where the real meat of the app comes in. After you've installed everything, a new menu will appear along with a corresponding system tray icon. The new menu is basically like the Windows start menu, in that it displays all of your portable apps in one convenient list. Furthermore, this launcher can be opened directly from the USB drive.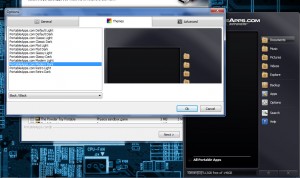 While you could theoretically install the portable apps yourself manually without this application, the process is a lot smoother with it. When you pop your USB drive into a foreign computer, you can just load up the menu and launch any of your apps. Think of it as like an app store for portable applications, only without the visual storefront.
If you have the autorun feature enabled in Windows then the PortableApps launcher will open automatically when you connect it to a computer.
There are some pretty neat customization options too. For example, you can change the visual theme of the launcher window, the overall opacity, and how apps are displayed in the list.
For reference, the PortableApps launcher uses about 11,000KB of RAM.
Conclusion and download link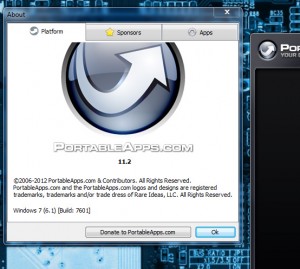 Sure, PortableApps is nothing more than an app store for freeware programs you could otherwise download on your own. What makes PortableApps useful is it's incredibly convenient. If you were to download all of the apps individually, it would take you forever… okay, maybe not forever but it would certainly take you a long time. And the launcher is pretty awesome too, because it offers a full catalog of the apps installed on your device, which are all accessible via one simple menu. If you are a fan of portable programs, or are constantly switching computers and you want a better way to organize your personal app suite, then PortableApps is the way to go.
Price: Free
Version reviewed: 11.2 (Build 7601)
Supported OS: Windows (XP, Vista, Seven, Eight), (works on Mac OS X and Linux via Wine or CrossOver)
Download size: 3.15MB
VirusTotal malware scan results: 0/45
Is it portable? Yes
Related Posts