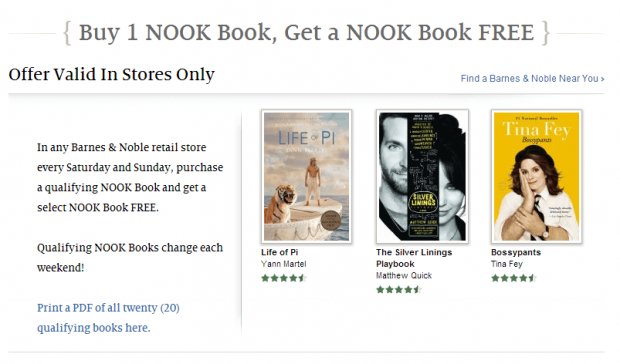 Well this seems rather silly. Barnes and Noble currently has a deal on offer for Nook owners, if you buy one book then you get another free. Of course, there are only a select number of books that qualify for the offer, and they will change every weekend during the promotion. That's not the weird part though.
The purchase can only be made in a physical store, if you want that free book. That's right, you have to go to a local Barnes and Noble store just to take advantage of this deal. The cashier will record your information, and you'll receive access codes via email that allow you to download the related titles from the Barnes and Noble website.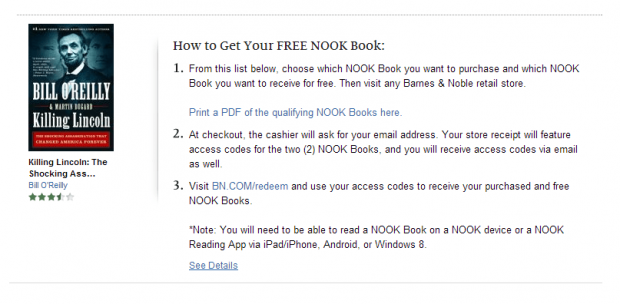 To reiterate, you have to go into a store to buy digital content, which you will then have to download from the website. Wouldn't it have been better for Barnes and Noble to just offer the deal through their online marketplace?
This weekend, there are twenty different titles that qualify and like I mentioned above that selection will change every weekend. Some of the current qualifying titles include The Lightning Thief, Tina Fey's Bossypants, The Silver Linings Playbook and more.
Of course, this deal isn't just for Nook owners only. If you have an iPad, iPod, Android or Windows 8 device you can also download the Nook app and read any books you purchase through Barnes and Noble's online store.
It's a pretty interesting sale albeit with some rather strange requirements. What do you think folks?
Maybe B&N will throw in a really sharp kitchen knife set as an added bonus just for coming in to the store, like those infomercials always claim.
[via Barnes and Noble]
Related Posts