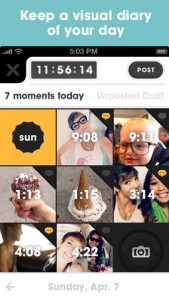 Almost as soon as it was invented, photography was used to commemorate important people, places, and events. Whether you prefer physical photo albums or flicking through the pages of a digital album, we love photography. Now, a new app promises something quite cool: a "visual diary" that builds animated gifs out of your favorite photo moments. This app is called Days, and it was developed by Wander. (Note: there doesn't appear to be any relation between this app and Wander.)
What is it and what does it do
Main Functionality
Days turns your photos into GIFs, and keeps a shareable diary of your favorite moments.
Pros
Creating a GIF is simple: just snap your photos within 10 seconds of each other, and that's it!
Fairly painless sign-up
Friendly, attractive app design
Simple-to-use camera
Pictures are time-stamped for easy reference
Cons
No filters
No camera roll import
Default photo setting is public after gifs are posted (however, this is easy to change during sign-up, and all "gifs in progress" are private by default until posted)
Despite pulling in friends from Twitter and Facebook, you can't use Twitter or Facebook to log in!
Slight delay between pressing the camera button and moment the photo is captured
Migraine sufferers, watch out: this app could trigger nausea or headaches when it starts flashing through images during gif creation
Discussion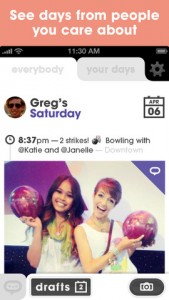 Days has a great, friendly look to it that makes you want to keep using it. Photos are easily, smartly, and automatically organized by date and time. You can also color-code events, and add descriptors.
The camera does seem to have a little bit of a lag, which might take a little getting used to if you're used to apps with a faster flash time. Hopefully the camera's reaction time will get faster: after all, the idea here is to take photos in quick succession to create a smooth gif, not a slide show!
As aspect of the app that the developers push a lot is the full emoji keyboard support, allowing you to communicate more expressively than with boring old text. I'm not a huge emoji fan, but for people who have a hard time discerning tone from text, this can be a big perk.
The developers try to frame the lack of filters as a perk, but I'm not buying it. A lack of features is very rarely a boon to any iOS app. That being said, I do like the underlying ethos of showcasing life as it is/was, not as it looked after slapping on some filters. There's something to be said for an app that refuses to let users romanticize their own lives.
Conclusion and download link
With a friendly design and unique approach to memorializing your favorite moments in time, Days has a solid interface that makes it a ton of fun to use. I do wish that you could add filters, or imported pre-filtered photos from your Camera Roll, but that's just me: your mileage may vary.  If you love photography or GIF-making apps, Days is definitely a new app that you need to keep your eyes on. I think this app is destined for great things and massive popularity.
Price: Free
Version reviewed: 1.0.1
Supported OS: Requires iOS 6.0 and higher

Download size: 15.7 MB
Days – Your Visual Photo and GIF Diary on Apple App Store
Related Posts