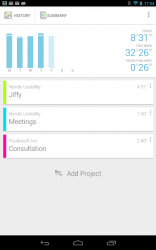 As a freelancer, one of the things I have to do often is keep track of my time. Every once in a while I'll land a project where I have to record my work hours and then turn them in. Normally I just use a spreadsheet setup through Google Drive. This allows me to email the spreadsheet or provide access to my employer right from the start. Unfortunately, it's not easy to edit a spreadsheet on the go- at least not one through Google Drive. Well, you can but it's a real pain trying to edit a big spreadsheet on a smartphone screen. Jiffy, is a minimal time recording tool that not only allows you to track time, but also to save some time.
What is it and what does it do
Main Functionality
Jiffy is a time tracking tool that allows you to track how long you spent working on various projects. It's essentially a time clock for your smartphone, albeit with some additional features. All projects can be assigned a specific color to improve navigation and organization. Jiffy will also generate detailed reports about clients or projects, and display all your time via a calendar interface. You can also export all of your data for use with third party applications and software.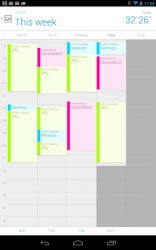 Pros
Quick, efficient and responsive
Minimal design and quite attractive too

Supports offline use and there's no account sign-in required

No advertisements at all, not even a little teeny tiny one
Convenient icon added to Android notification tray
Jiffy is also optimized for tablets
You can edit any projects or times that may have incorrect data
Cons
No widget support, would be nice to have

The free version has limitations (which can be removed by purchasing an "extension" which is only $2):

3 projects max
4 weeks of history
Export data to csv

Requires Android 4.0 and higher
Discussion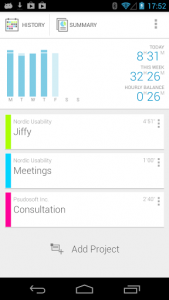 Have you ever wanted to track your time efficiently, through a simple yet responsive app? That's what Jiffy is for, or at least that's what the developers bill it as:
Jiffy is a time tracking tool conceived, designed and developed by people who need to track time for people who need to track time.
What's particularly appealing about Jiffy is the minimalistic theme. I happen to like a very minimal design so it's right up my alley. I don't think anyone else will have a problem understanding why I say the design is quite attractive. It actually follows the same design as many of Google's apps, Calendar, Keep and Drive come to mind.
What you'll be doing most in Jiffy is entering your time and your projects, and it's pretty easy to do. Let me break it down for you. All you have to do is open up Jiffy, tap the "Add Project" button, enter a customer and a project (names) and then designate a color for the event. Once you're all done, just click save and that's it.
The project will show up on the main home screen, and when you're ready to clock in all you have to do is tap on it in the list. A timer will start counting the time you spent working on the project. When you're done, or ready to clock out, you just have to tap on it again and the timer will stop.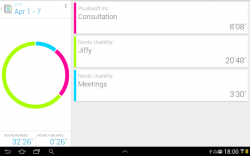 While a timer is running, you can do other things on your phone and leave Jiffy running in the background. A notification appears in the Android notification tray, which tells you the current time of the counter. You can also stop the timer and choose a specific time to stop it, directly from the notification tray.
There's a neat little calendar feature that shows all of your time slots on a weekly or monthly basis. In the top right corner of the calendar screen, your total time for the week is also displayed. That way you can keep track of how many hours you've worked exactly.
Jiffy also produces a detailed summary of your regular patterns on a monthly basis. It tells you which projects you worked on the most, how many hours you invested and more. Better yet, this data can even be exported as a csv file to use with third party programs.
In the application settings, you can designate regular work hours and your hourly pay rate. This helps you keep track of how much money you make per project.
There's not much else to cover, that's pretty much the gist of the application. That's what I like about it though, sometimes when there are too many bells and whistles stuff can just end up getting in the way.
For reference, Jiffy uses about 25MB of RAM while running, which means that it's pretty light on resources.
Conclusion and download link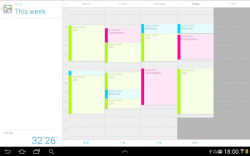 If you need to keep track of time, specifically time spent working from home (or anywhere for that matter), then Jiffy is great for it. The most appealing part about the app is that the overall design and mechanics are minimal; it takes seconds to set up a project, and it's just as quick to start tracking your time. In addition, you can view your tracked time via weekly and monthly charts, and with detailed reports. The notification icon is definitely convenient too, because once you start a timer you can instantly stop it if you need to — all from the Android notification tray. Personally, I've found Jiffy to be quite an invaluable tool and I highly recommend it.
Price: Free
Version reviewed: 1.0.1
Requires: Android 4.0 and up
Download size: 959KB
Related Posts