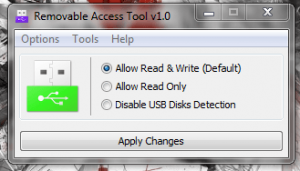 Sometimes, you just have to leave your computer unattended. In fact, it's almost inevitable that it will happen every now and then. There's one huge problem with doing that, especially in a public place or when you're at work: anyone can hop onto the computer and download sensitive data off it. One of the easiest ways to extract information or data from a computer is to load it quickly onto a USB flash drive. We all know it doesn't quite happen like the movies and TV portray it, but it's still definitely possible. Removable Access Tool is a Windows application that restricts access to a removable USB drive or external drive.
What is it and what does it do
Main Functionality
Removable Access Tool, or Ratool for short, allows you to make it so USB drives (flash, external, etc.) have no read or write access on your computer. So, depending on how you configure Ratool, whenever a USB drive is plugged into your computer, either it won't be detected at all or it will be detected but can only be read and not written to or it will be detected but it cannot be read or written to. The idea here is that this will prevent anyone from copying information to a USB drive (or from a USB drive, such as someone trying to infect your computer via USB) without proper authorization.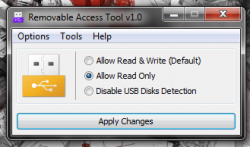 Pros
Allows you to pick if you want to disable read & write, read only, or simply disable USB drives from being detected
Settings stay active even after the application is closed and the computer is shutdown or restarted. In other words, you don't need Ratool always running in the background.
You can lock access to the application settings with a password
Portable and lightweight
Incredibly easy to use and setup
Cons
There are plenty of other ways to copy sensitive data

Since Ratool is portable, what is to stop someone from downloading a separate copy of Ratool on your computer and re-enabling read/write access while you are away?
Discussion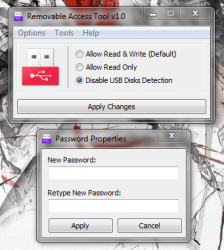 Ratool is incredibly easy to use, and when I say easy I really mean easy. Once the app loads, you have instant access to various settings to lock down USB detection on your machine. There are three different settings, all with varying outcomes, obviously.
Allow Read and Write
Allow Read Only
Disable USB Disks Detection
By default, the application is already set to "Allow Read and Write," because clearly this is the standard setting in Windows. It's important to note that this is what you set the application back to, when you want to return everything to normal.
The "Allow Read Only" option will disable any writing to a USB external drive. That means you can read files from a USB drive when it's plugged into the machine, but you cannot copy anything over to it.
The final option "Disable USB Disks Detection," will disable all functionality of external USB drives. That means you cannot read from or write to external storage.
There are a couple of additional tools that you can use too. The first is pretty useful, as it disables the autorun feature in Windows. That means when you plug any external drive into the computer it will not automatically run applications, or open the autorun menu.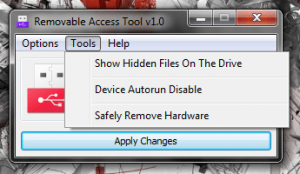 You can also show hidden files on a connected drive. This is pretty straightforward, and just like the identical setting in the Windows Control Panel, it will allow you to see any hidden system files or others stored on a connected drive.
You can setup an application lock, which will prevent anyone from altering settings within the app so long as they don't know the related password.
From what I can tell, the application works exactly as advertised. The most important thing is that the settings remain active even after the application is shut-down, and even if the computer is turned off or restarted. The settings remain no matter what, and if you set a password no one can change the settings unless you give it to them.
For reference, Ratool uses about 1,200KB of RAM while running. That's not much at all. Plus Ratool is portable and incredibly easy to use. Furthermore, according to the developers, Ratool is also more secure than other tools on the market, especially web based tools. Supposedly, this is because other users cannot just disable the tool with one of many workarounds that work for other applications.
Conclusion and download link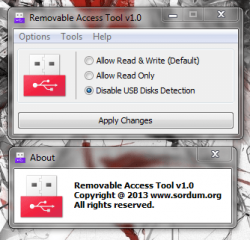 If you're in the market for a tool that can completely disable read and/or write access to USB drives (flash, external, etc), then Ratool is ideal. It's minimal, lightweight, and portable. Overall, Removable Access Tool is an effective and useful way to protect your sensitive data from being copied to an external drive. It doesn't stop anyone from copying your data in other ways (e.g. online), but that's a different problem entirely. Grab Ratool if you think you can make use of the features it provides.
Price: Free
Version reviewed: 1.0
Supported OS: Windows

Download size: 337KB (zipped), 363KB (unzipped)
VirusTotal malware scan results: 0/46

Is it portable? Yes
Removable Access Tool homepage
Related Posts