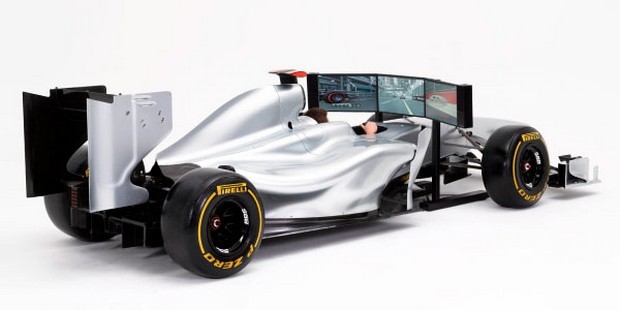 When it comes to hardcore racing games, players know that every little advantage counts. Racing simulators employ some of the most realistic physics elements which factor into those lap times. You can also modify vehicles realistically to include new tires, engine internals, and more. At the end of the day, nothing will make the experience more realistic than a full-scale simulator.
Cosco UK and FMCG International have teamed up to offer the F1 simulator, a full-scale realistic simulator designed to look just like a real F1. The entire setup is made to order, and therefore it takes about 12 to 18 weeks to be delivered to the customer.
Most of this bad boy is designed with carbon fiber composite, aside from the main cockpit which is instead made with a woven composite. The simulator also includes a unique realistic steering wheel thanks to a force feedback unit. The steering pedals are fully adjustable, and users can do so electronically like a real F1.
The electronics are handled by a high end PC, and the full lists of specs for that are the following:
Intel Core i7 processor
Intel SSD Drive
Triple Head Graphics Card
16GB of installed RAM
1200W power supply
Windows 7 Pro 64-bit
Wireless keyboard with integrated mouse
In addition, all of this is hooked up to three tandem 23-inch TFT displays with a 8ms response time. The displays are mounted to an adjustable frame, which sits just north of the cockpit. As you can see from the image, it would be like looking out of a curved windshield- even though we all know F1's don't really have a very big windshield.
At first thought, I wondered of all of this would sit still especially considering the simulator is hooked up with Pirelli F1 show tires. I mean, realistically what if you got a little too excited while hopping in and shoved the carbon fiber chassis into those sweet displays? Luckily, the simulator is also outfitted with carbon brake disks and AP Racing or Brembo brake calipers to make sure it stays in place.
None of it would be very realistic without sound, of course. That's why there's a built-in 5.1 digital surround sound system with a sub-woofer in the engine compartment, and other speakers strategically placed around the vehicle. The display towers also house the two main front speakers, which will produce sound in front of the driver, obviously.
Now, I know you're already wondering how much this all costs because I certainly did. If you read the title then you already know but that's okay, I'm just going to act like you don't. It's a perfectly reasonable £74,999.91 (US $116,650). If you want one, you can order directly through Costco and have it shipped to your current location. Although, the page also says "due to the nature of this product you cannot 'Add to Basket' & checkout from this page. If you want to purchase this item please email [us] & we will contact you to arrange payment & shipping."
Damn it! I really wanted to add that thing to my virtual shopping cart too!
Related Posts