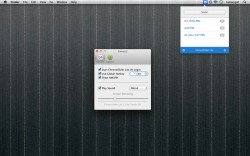 Back in February, we took a look at a little timer app called Pomodoro. This customizable timer was somewhat inspired by the Pomodoro time management technique, whereby you break down your working day into short increments of active working time (25 minutes), and take 5-minute breaks between each 25-minute block. I liked Pomodoro, but I'm the kind of person who is never truly satisfied with an app, and I'm always looking for alternatives that might be better than the apps I'm currently using. For that reason, I was interested in trying ChronoSlider Lite, a Mac App developed by Tamás Gál.
What is it and what does it do
Main Functionality
ChronoSlider Lite is a Mac App that lets users quickly and simply set up a timer. With just a swipe and a click, you're good to go!
Pros
Takes up very little space on your hard drive
100 percent free to download and use
Incredibly simple, fast, and sleek way to set alarms and timers
Cons
Lite version lacks a couple of the perks found in the Paid version of ChronoSlider, such as customizable alarm messages, recurring reminders, and Apple Script support for timing events on your Mac or other Mac Apps.
Not ideal for older Macs or Macs that haven't been updated for a while: ChronoSlider Lite requires at least Mac OS X Lion
Although I didn't personally experience this phenomenon, some users have reported that this app can sometimes cause a big spike in CPU usage and hog all your memory.
Discussion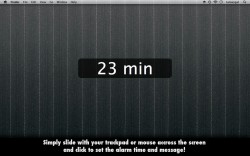 This may be the fastest timer tool on iOS or Mac that I've ever seen. Setting up a new timer is blazingly fast: the instructions for using this app are basically right there in the name– ChronoSLIDER.
All you need to do is slide your cursor across the screen, and then click your mouse once to set the timer. I'd hard-pressed to describe a faster UI for setting a timer, short of thought controlled devices a la Tony Stark.
The latest version of the app is Version 2.0.1, which has been updated to include quarter hours. Some additional tweaks to enhance overall app performance have also been made in this version of the app.
This app looks great, performs great, and has a wonderful UI. What more could you possibly want from a basic timer app? For people who need a simple tool for time management purposes (or setting reminders about when to do things around the house), this is a great tool to test drive.
Conclusion and download link
For the time-obsessed, ChronoSlider Lite is a great time-tracking tool. Whether you're just trying to boost your personal productivity, better budget your time, or track billable hours for your clients, this app is a helpful tool. This minimalist tool is the perfect timer to integrate with your desktop, and keep you cognizant of how you're spending your leisure and working time. If you like this app, give the Paid version a try: it has even more great features. But for users who just need something simple, this is a good tool.
Price: Free
Version reviewed: 2.0.1
Supported OS: OS X 10.7 or later

Download size: 0.4 MB
ChronoSlider Lite on Apple App Store
Related Posts