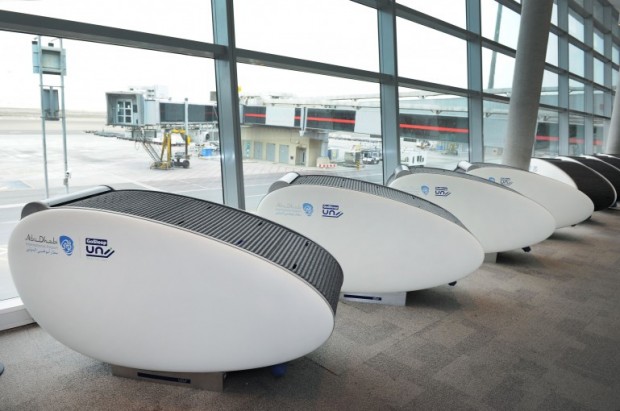 Wouldn't it be nice if airports offered accommodations for really long international flights, or any long flight for that matter where you're up against some serious jet lag? The Abu Dhabi Airports Company (ADAC) just announced that they installed ten GoSleep pods at the Abu Dhabi International Airport.
If you've never heard of them before think personal locker that you can sleep in. They're designed to be compact, yet still allow an individual to recline all the way back for a quick power nap. The pods are also outfitted with a pull-down blind that works to cut off surrounding noise and block light. Of course, the blind also adds an extra layer of privacy for the individual inside.
Only ten of the finnish-made GoSleep pods have been installed for now, but there are plans to add at least 35 more by the end of this year. Currently, the pods don't offer much for tech but they will eventually be upgraded to implement a plethora of features like internet access, secure luggage storage, and charging ports for various electronics devices.
Mohammed Al Bulooki, the Chief Commercial Officer of ADAC says that the installation of these new chairs proves his company's commitment to delivering a positive experience to customers.
"Abu Dhabi Airports Company continually strives to enhance the experience of passengers travelling to, from or via Abu Dhabi International Airport. The introduction of 'GoSleep' sleeping pods is another step towards exceeding customers' expectations and delivering world-class levels of service. Abu Dhabi Airports Company is proud that it is the first airport in the world to have secured an agreement to install the very latest passenger experience that embraces the latest technology. The installment of these innovative new convertible chairs highlights ADAC's commitment to using the latest technologies to improve airport facilities, ensuring that passengers have the best experience whilst visiting Abu Dhabi International Airport".
Phew, that's a mouthful Bulooki! He's right, though. I can imagine quite a few happy campers traveling to and from Abu Dhabi International who will take advantage of the GoSleep pods.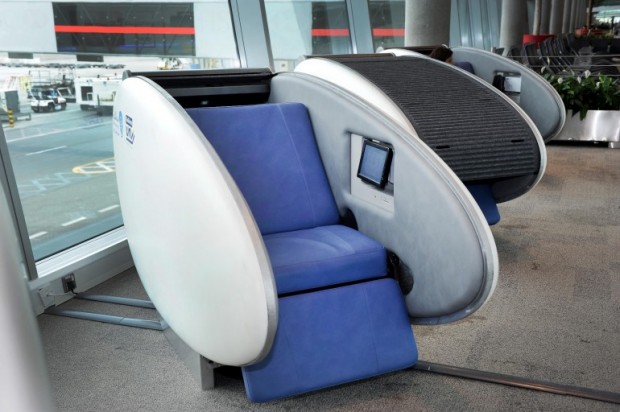 They can be rented on an hourly basis for about $12.25 an hour (AED 45) with a credit card.
Pretty cool stuff, wouldn't you say? I'd like to see the GoSleep pods implemented in a lot more airports, including here in the US. Although, it's tough for me not to think about how dirty they will eventually get. I hope they're easy to clean.
Related Posts