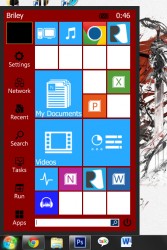 What if, instead of doing away with the Start Menu in Windows 8, Microsoft actually evolved the concept even further? What if they adapted the Start Menu for use with touchscreen devices and those that relied on a mouse? It would probably use some kind of Metro style theme, yet still resemble the same old Windows start menu we all know and love. Start Menu Reviver is a free Windows application that restyles the Start Menu in Window 7 and implements it in Windows 8.
What is it and what does it do
Main Functionality
Start Menu Reviver, as the name implies, will bring the Start Menu back to Windows 8. Since it's also compatible with Windows 7, it will restyle the Start Menu to resemble the Metro theme. It also incorporates some unique functions like the option to add portable program folders as a custom shortcut, customize the UI, and more.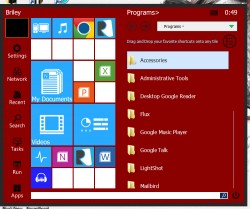 Pros
Adds a Start Menu to Windows 8 and revamps the Start Menu in Windows 7
Totally customizable UI and tile elements

Resize and move tiles
Reskin the UI and tiles with different colors and fonts
Add custom shortcuts to the application you use most

Relatively light on system resources — it uses about 4.5K of RAM
Collapsable side-menu displays basic file explorer options
System and Control Panel shortcuts conveniently placed for quick access
It can be adapted for touchscreen use or incorporate mouse based controls
When you first open the app a tutorial walks you through using the new Start Menu
Cons
If you don't like the Metro UI then you're out of luck, because that is the theme of this program
Some of the custom theme colors look weird when used and fonts can look pretty messy at times
Some of the little features don't seem to work in Windows 7, such as tutorial videos don't play and profile image is blank
Doesn't support XP and Vista
Discussion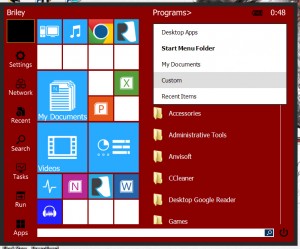 Do you miss the traditional Start Menu in Windows 8? Tired of the same old start menu in Windows 7? Start Menu Reviver will take care of both those issues and more. I can honestly say after using the application it's one of the better Start Menu replacements out there, and it's totally free.
The first thing you'll need to know is that it completely replaces the Start Menu (or adds one) with a new Metro theme. If you don't know what that is, Windows 8 was updated with a new tile-based interface to match the Windows Phone operating system. Essentially, this makes the platform much easier to use with touchscreen devices, and it's also supposed to make the UI flow much better overall. Unfortunately, the new Metro dock replaced the Start Menu completely in Windows 8, and it made a lot of folks unhappy.
Personally, I think that Windows 8 is a victim of circumstance (read- the Windows 8 platform not Microsoft). The Metro UI is great in a lot of ways, but bad in others. Microsoft changed too much, too soon, and they didn't offer consumers a way to revert any of the major changes.
Start Menu Reviver, for all intents and purposes, looks almost identical to the Metro UI. Major shortcuts are displayed as tiles, which can be rearranged, customized and more. The layout is setup just as I'm about to describe. When you first open the Start Menu, you see major system items on the very left-hand side of the window while the tiles take up the remaining portion. There is a convenient search bar at the bottom of the initial menu, with a battery indicator and digital clock at the very top above the tiles. When you move the cursor toward the right hand side of the window, in a swipe motion, a collapsible side menu will open up. The side menu is essentially a toned down file explorer that can display Start Menu items, Desktop apps, My Documents and more.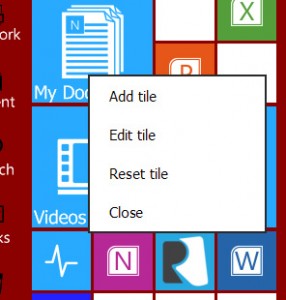 Getting back to those Metro style tiles, all of them can be easily customized by right clicking on the tile and selecting an option from the related context menu. You can customize a tile's description, shortcut directory, tile color and picture, which you choose from several pre-designed icons. The tiles can also be resized so that they take up more or less room depending on your personal tastes.
You can have a maximum of 32 different tiles displayed (smallest size) down to a minimum of 8 tiles displayed (largest size). To resize tiles, all you have to do is drag a smaller tile onto a larger one and it will split into four smaller tiles. Adversely, you can isolate a small tile by itself, and it will automatically convert to the larger tile size.
You can even add URLs to a custom tile so that clicking on it will take you directly to a preferred website.
In the collapsible side menu, a custom folder shortcut will allow you to designate any folder for quick access but you can only use one at a time. Luckily, it's always easy to change thanks to a simple link near the top of the window.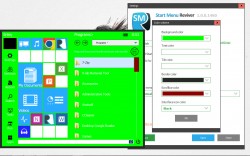 The real appeal with Start Menu Reviver is that you can customize it completely to suit your tastes. I have to admit, even using the application in Windows 7, it made the start menu interesting again. Not that I didn't before, but it seems like now I have all of my favorite applications and relevant shortcuts right where I need them and I don't have to sort through a bunch of excess material in order to access them. Before someone else comments for me, yes you can customize the traditional Start Menu exactly how you like it, but the new Metro tiled theme gives you direct access to the applications you use most. It doesn't hurt that the search function is pretty powerful either. You can search through applications, documents and even user settings all via the single bar.
Start Menu Reviver uses about 4,500KB of RAM while running which isn't bad at all for a third party launcher.
Conclusion and download link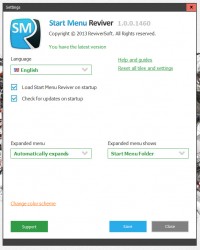 If you want the Windows Start Menu back in Windows 8, or you want a reimagined Start Menu in Windows 7, then Start Menu Reviver will do exactly that. It's relatively light on resources, which is good because it always runs in the background. Plus the interface is responsive, unique, and customizable. If you don't like the Metro UI, or the tile-based layout of Windows 8 and Windows Phone, then you should probably steer clear of this program. Otherwise, if you don't mind Metro UI (which isn't as bad as you might think — I prefer it to the traditional Start Menu because it just flows better, in my opinion), then check out Start Menu Reviver.
Price: Free
Version reviewed: 1.0.0.1460
Supported OS: Windows 7 or 8
Download size: 5.0MB
VirusTotal malware scan results: 0/46
Is it portable? No
Related Posts