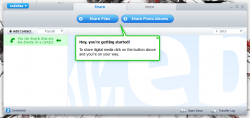 Desktop to mobile file transfer clients are a dime a dozen. We've covered quite a few here at dotTech, such as AirDrop and qrSend. ZeZebra is another program that allows you to share large files from Windows or Mac to Android or iOS devices. Let's see if it is worth your time.
What is it and what does it do
Main Functionality
ZeZebra is a file transfer application that allows users to transfer large files between a Windows PC or Mac and Android or iOS device. There are no bandwidth limitations and because it connects device-to-device it does not upload files to the cloud. However, to transfer anything you do need to have the client installed on both the computer and the mobile device. To send files, you can either use the right click context menu in Windows or you can drag and drop the related content.
For the purposes of this review, I used the Android and Windows version of ZeZebra. I have not personally tested the Mac and iOS versions.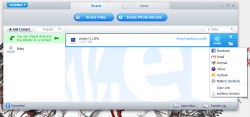 Pros
Transfer files cross platform to Android and iOS from PC or Mac

Simple and straightforward user interface
Share files thanks to drag and drop methods
Connect frequent users via ZeZebra contact list
Files are not stored via the cloud and when you delete them all access ceases (unless users saved the file locally)
Cons
While installing you have to close Chrome or any open web browsers
To transfer files to yourself, you can just add your secondary device via the ZeZebra contacts it would be nice if there was an easier way like simply synching up connected devices via an account
Discussion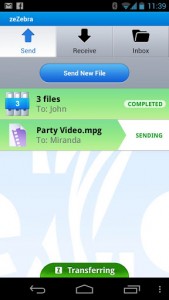 The potential with ZeZebra is incredible. It's a cross platform file sharing application that boasts absolutely no limitations or restrictions. It certainly sounds like a dream come true, but is that reality? We're about to find out.
ZeZebra can actually be used to share files with anyone, regardless of platform. Here's how it works. You upload a file to the application, and it creates a unique link. You can then share that link via several different platforms including Facebook, Gmail, Yahoo, Mailbird and more. You can even copy the link directly to send to someone via text or another application entirely. Perhaps the easiest way to share is to add someone to your ZeZebra contacts list. To add someone to your contacts list you can employ the same methods to send any contact a connection link. When they receive the link and open it, it will do one of two things: it will either direct them to the proper application for their device, or it will add you to their contacts list in ZeZebra and vice versa.
If you share a link with someone, they can click the link and add it to their ZeZebra queue. If you share a file directly with a contact (drag and drop) it will automatically be added to that contact's ZeZebra inbox.
To use ZeZebra to transfer files to yourself is quite simple. Just send yourself the link, either through email or Facebook to connect as a contact. Once connected, you can seamlessly share files back and forth between devices.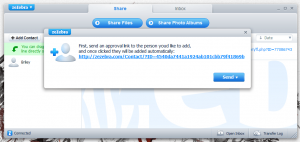 Sharing is pretty straightforward too. You can either select the share files button, or you can simply drag and drop a file into the ZeZebra window. You can also share entire photo albums through the app, as well.
All shared files will remain in the inbox, regardless of the device you're using the application on. Furthermore, once you start a transfer the file will automatically begin downloading on the related device before you approve the transfer. A prompt will appear asking you whether or not you approve the transfer, of course and if you do then you'll get immediate access to the related file.
That's it really, that's ZeZebra. It's minimal sure, but it also works quite well.
For reference ZeZebra uses about 25,000KB of RAM while running (Windows) and 20.6MB of RAM while running on mobile (Android).
Conclusion and download link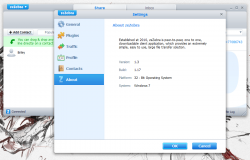 ZeZebra is a great file transfer utility. Period. It allows you to easily share files from a PC or Mac to an Android or iOS device. Furthermore, you can share files with friends via Facebok, and various email platforms. ZeZebra is a pretty great option to consider if you need to transfer files between computers/devices or want to share files with friends, family or colleagues. Check it out.
Price: Free
Version reviewed: 1.3 (build 1.17)
Supported OS: Windows (XP, Vista, Seven), Mac OS X, Android and iOS
Download size: 8.1MB
VirusTotal malware scan results: 0/46
Is it portable? No

Related Posts