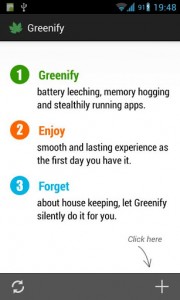 One of the biggest problems with Android, is that when you have a lot of apps installed quite a few of them end up running endlessly in the background. Some of them drain the battery faster even when they're not doing anything. Force stopping them through the Android settings menu doesn't always work, and if you freeze them you lose all functionality until they're defrosted again. In most cases, you either leave the guilty apps installed, or you get rid of them to conserve resources. Greenify for Android, introduces save-state style hibernating for various apps.
What is it and what does it do
Main Functionality
Greenify will hibernate various apps that run in the background using precious system resources. Greenify works differently than Titanium Backup's freeze feature, and any task killer apps. It temporarily puts a designated app into hibernation and all functions cease like push notifications, background communications and more. When you're ready to start the app back up, all you have to do is launch it from the app tray.
Pros
Responsive and easily navigable UI
Auto analyzer intelligently discovers resource hogs and optimal apps
Places user designated apps into hibernation, and they only operate when the user opens them directly
Only uses about 14MB of RAM while running
Detailed descriptions about each app and why they should be put into hibernation
Cons
Requires root access
All background app functionality ceases when an app is in hibernation, this can render certain apps useless like alarms, and social network apps
Discussion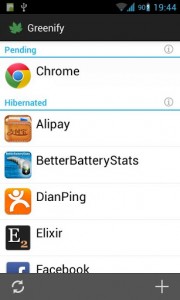 Greenify is very simple and easy to use. Right when you launch the application (after installing, of course) it will present you with a getting started page. From there, all you have to do is tap a plus icon and Greenify will automatically analyze apps on your device. There are three varying levels that Greenify will sort apps into:
Apps that are currently running in the background
Apps that will slow the device down under certain conditions
Apps that have been launched recently
Obviously, if the application doesn't fall under one of those three categories then it's not displayed in the Greenify list. That's not a serious issue though because you can really use any application installed on your device in Greenify, we'll get to that in a bit.
If you scroll all the way to the bottom of the app analyzer list there's an option that says show more apps. Pressing this will allow you to manually hibernate any application installed on your device. This is ideal for those times when Greenify does not automatically identify a candidate for hibernation.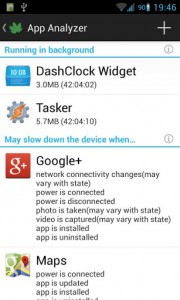 The user interface is clean, responsive and very easy to navigate. Unfortunately, the application does require root access which means it's more for advanced users. The application itself is easy enough for anyone to use, but the root process is not.
Just in the time that I was using the app I noticed a difference in performance all across the board. That being said, you're sacrificing the background functionality of any apps that you're hibernating. They will only work when you have the respective application open.
The developers warn not to hibernate certain apps because of the decrease in functionality. For example, alarms, instant messaging, social networking, launchers, cloud storage apps and even system apps will not work properly when they are in hibernation so keep that in mind.
For reference, Greenify uses about 14MB of RAM while running.
Conclusion and download link
If you're tired of those pesky apps running in the background constantly even when you force close them, Greenify is the answer. It will put applications into hibernation, so that they only work when you open them directly. The app is easy to use and helps increase device performance. Keep in mind, Greenify does require root access to work properly, but if you have a rooted device, then Greenify is the app for you.
Price: Free
Version reviewed: 1.82
Requires: Android 3.1 and up
Download size: 410KB
Related Posts