Have you ever freaked out when using Microsoft Office 2007/2010/2013? I know I did because Microsoft has killed the classic Office menu and toolbars which we were accustomed to for years, and come up with ribbon style! The result of this change? The learning curve is so steep that people get really frustrated. Well, if the ribbon is still bothering you, UBit has got a solution for you in the form of UBitMenu.
All you have to do is close all open Office windows, and download and install UBitMenu. UBitMenu is nothing but an add-on for Office, and works with Microsoft Word/Excel/PowerPoint 2007/2010/2013. With it, you get the classic Office menu and toolbars just like the picture below: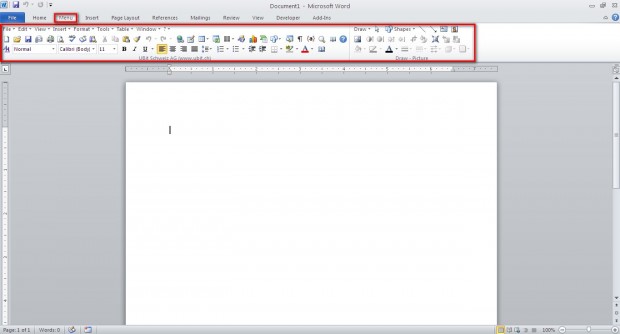 The only problem with UBitMenu is you don't see the keyboard shortcuts associated with the buttons that are added back. But don't worry, if you know those shortcuts, they will still work. Do take note, however, the shortcuts will be in accordance with the version of Office you are using. For example, Microsoft has decided to change some hotkeys; for instance, Ctrl+Shift+C was the hotkey for Format Painter but in MS Word 2010, it does not work.
Version reviewed: 1.04
Download size: 359 KB
Supported OS: XP/Vista/Win7

Virustotal scan results: 0/46
Related Posts