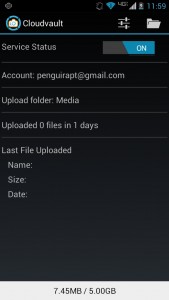 Google+ now supports automatic photo uploads, if enabled the feature will upload images from your Android device and store them privately. They can be accessed via your Google account, where they can be shared, edited, downloaded and more. It's a pretty convenient feature, but what if you never use Google+? Wouldn't it be nice if you could do the same with your Google Drive account? CloudVault allows you to instantly upload or backup photos and videos to your Google Drive account.
What is it and what does it do
Main Functionality
CloudVault is a free Android application that connects to your Google Drive account and automatically uploads any photos and videos stored on the device. You can specify a custom upload folder or you can just upload to the root directory of Google Drive.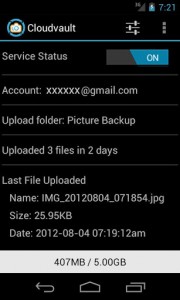 Pros
Automatically uploads photos and videos to a Google Drive account
Store files in root directory or specify a custom directory
There are quite a few customization options

Sync via Wi-Fi only
Set preferred Wi-Fi network behavior (only sync with preferred network connection)
Turn off sync while roaming

You can mass upload everything on your device in one sitting (takes a while)
Cons
Google Drive is the only supported cloud storage service (Dropbox support and support for other cloud storage services would be better)
Uses 24MB of RAM while running (which is not bad but not phenomenal either)
You have to use a different app to manage the files once they've been uploaded (i.e. you can only upload to Google Drive — you cannot manage uploaded files from this app)
Discussion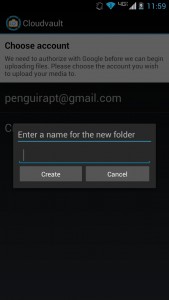 The Google+ auto upload feature is convenient, but there are a couple pretty blinding issues with it. Namely, the simple fact is that not everyone uses or wants to use Google+. Furthermore, some folks are likely not comfortable automatically uploading all of their photos to a social media network- whether they're private or not.
CloudVault connects to a Google Drive account and then automatically uploads any new photos or videos to the cloud. When you first start the app you're given the option to upload to the root directory, or to a custom folder. I would recommend using a custom folder, because you'll probably be using your Google Drive storage for other content, as well.
There are quite a few additional features available with CloudVault, like restricting the app to only upload files stored in the local DCIM and Camera directories. You have full control over your network and data usage with the app too, which is important. You can set it up to only download via Wi-Fi, and you can even assign a preferred Wi-Fi. If you don't want the device to upload while roaming when using a mobile connection, then you can leave the related setting disabled.
You can also customize other parameters, that allow you to restrict uploads when the battery is below a certain level, and only allow uploads when the battery is charging.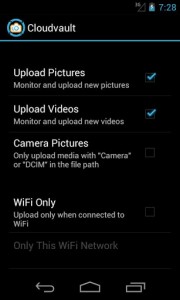 The application works just as advertised and all appropriate media is uploaded automatically. It keeps track of how many files you successfully upload too.
Unfortunately, once you've uploaded files you cannot manage them with CloudVault. You have to use the Google Drive app or the web portal equivalent instead. It would just be another convenient feature to have, especially since currently you have to manage the files (stored via the cloud) through another app entirely.
For reference, CloudVault uses 24MB of RAM while running, which isn't bad for an auto-run service that's always running in the background. Of course, you will see increased data usage and faster battery drain because of it, so keep that in mind.
Conclusion and download link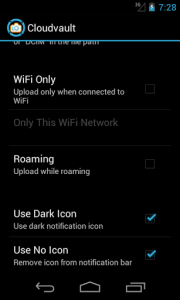 If you're looking for a free and convenient way to automatically backup locally stored photos and videos from your Android to Google Drive, then CloudVault is a decent option. It only includes support for Google Drive, but every Google account — which you must have, if you use Android — comes with free 15GB of storage on Google Drive so only supporting Google Drive is more of an annoyance than a deal-breaker. Overall, CloudVault is simple, efficient, and it gets the job done. What more can I say?
Price: Free
Version reviewed: 1.14
Requires: 2.1 and up
Download size: 2MB
Related Posts