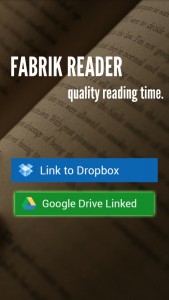 With the latest version of Google Books, you can now upload custom files for reading in the Books app. This is certainly a welcome addition and many will take full advantage of the feature. Personally, I don't really like the Google Books reader as much as some of the other e-reader apps I've encountered. The cloud storage feature is certainly welcome, however as it's great to always have access to bookmarks, personal notes and page saves no matter what device you're on. Fabrik is a holo-themed e-reader application for Android, that includes Dropbox and Google Drive support so you can store and access your content from the cloud.
What is it and what does it do
Main Functionality
Fabrik is an e-reader app for Android that allows you to store books and content in the cloud via Dropbox or Google Drive. Any new books added to the appropriate cloud storage directory you specify are automatically added to your library. Fabrik supports TXT, EPUB and MOBI formats, and it can also scan for book covers if you don't already have them setup.
Take note Fabrik has a free and paid verison. For this review we tested the free version of Fabrik, there is also an ad-free pro version available for $2.99. You get three days of ad-free access as a trial when you first install the app, before the ads actually show up.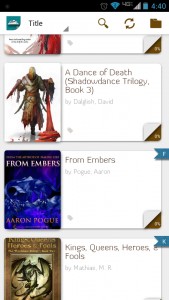 Pros
Read content stored locally on your device (MOBI, EPUB, and TXT)
Access content stored via Google Drive or Dropbox

Automatically syncs content added or removed from a user-specified cloud storage directory
Cover art is automatically applied, as long as there's an active internet connection
Auto-syncs progress via the cloud so all information is saved even across multiple devices
Supports MOBI, EPUB and TXT formats

You do not need network access to read your content (once that content has been downloaded/cached locally)
Uses clean and responsive Holo UI
Cons
Advertisements do appear, but first you get a 3 day ad-free trial. They can be removed entirely by purchasing the pro version for $2.99.
Uses a whopping 64MB of RAM while running, likely due to a combination of the network (cloud storage) features and visual aesthetics
Scans a lot of internal storage directories, and when specifying a folder there's no way to hide useless directories
Discussion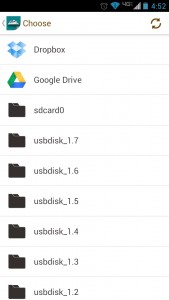 One of the most convenient features of any e-reader app is the option to store content and progress data in the cloud. It's especially useful if you have multiple devices like a tablet and a smartphone. Instead of always relocating your current position and transferring notes you can just open the related file on any device and instantly all your settings are retained. Unfortunately, there are only a small handful of e-readers that take advantage of cloud storage. Slowly but surely other apps are starting to implement the functionality, but why wait when there's no need to? Google Books and Fabrik are just a couple e-readers that already handle cloud storage.
Personally, I think that Fabrik is far superior to Google Reader and that's what we're going to cover in this review.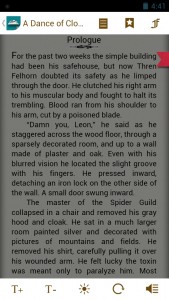 When you first open Fabrik, it asks you to authorize access to your Dropbox account or your Google Drive account. It's a pretty straightforward process so there's no need to elaborate further. Needless to say without the proper access many of the features are useless.
Once Fabrik has access to your cloud storage account, you're then asked to specify the directory where your ebooks are stored. This is definitely convenient as you likely use your account to store other files, as well. Whenever you update the specified directory, by adding books or removing them your Fabrik library is automatically updated to reflect the changes. You don't have to worry about managing your library, simply tell the app where to look and then off you go. It's as easy as dropping content right into the appropriate directory (in a compatible format, of course).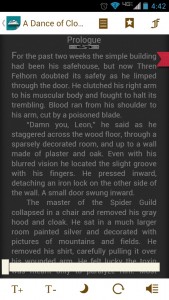 It goes without saying, Fabrik can also scan for content stored locally on your device like all other e-readers.
If you don't have covers for your books there's no need to fret. The app will automatically retrieve covers so long as there's an active internet connection.
As you read a book or file in Fabrik, it will record your progress and display that information right on the home screen. When browsing your library, you can always see how much of a book or file you've finished reading. Your bookmarks and current page information are stored in the cloud, which means you always have access to the data no matter where you are –provided you have an active internet connection.
As for the standard e-reader features, everything is available. There's a night mode which turns the background black and the text white, this makes it easier on the eyes when reading in the dark. You can bookmark any page and access your bookmarks at any time from a separate menu. You can change the size of the text, and the font to match personal preferences and you can even adjust the screen brightness from directly within the app.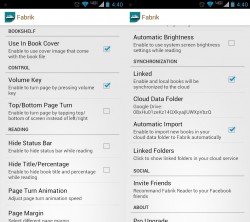 Probably one of the most useful e-reader features is the option to turn on text-to-speak. The device will read back content, although it's in a rather robotic and inhuman voice. That's okay, at least the option is supported if you want to take advantage of it.
I'll be honest, the main UI is pretty attractive. Fabrik displays books in your library in a list format with the appropriate cover image, author and title and completion percentage. When you tap on a book to read it a neat little sliding animation occurs before the book is propped open- digitally, of course. A similar animation is played when turning pages, but this feature can be turned off in the application settings if you don't like it or if it doesn't work properly on your device.
Books must be cached locally on your device because you can read them even without an active internet connection. All the text and content is visible save the cover image. That's great news especially if you're going to use the app where you have no signal, like an airplane.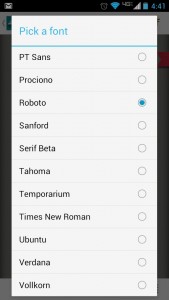 There's one pretty sizeable issue with the app. Naturally, the cloud storage features and likely some of the aesthetics attribute to quite a bit of resource usage. More specifically, Fabrik uses about 64MB of RAM while running, so it's certainly not something you'll want to leave running in the background all the time. That being said, I personally have not noticed an increase in battery drain while using the app. Keep in mind that leaving the display on for an extended period of time contributes to increased battery drain, though. If that last statement throws you for a loop, let me reiterate. The application itself does not use a lot of energy, seemingly not any more than normal. However, if you leave the display on for a long time you will notice slightly faster battery drain, but this is true of any application that keeps the screen awake.
Conclusion and download link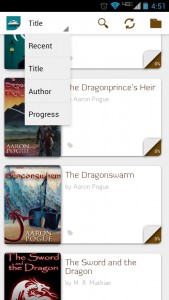 Fabrik is a remarkably attractive e-reader app that allows you to access content stored locally or in the cloud via Dropbox and Google Drive. All of the standard e-reader features are supported like night mode, customizable fonts, varying themes, and more. In addition, the page turn and sliding animations add some unnecessary, yet pleasing aesthetics. I much prefer Fabrik over Google's own e-reader app, even though Google recently added cloud storage support to Google Books.
That being said, Fabrik does use a considerable amount of system resources while running (64MB of RAM) which means people with low-end devices will likely shy away. If you don't mind that high RAM usage, then check out Fabrik.
Price: Free, $2.99 (pro version)
Version reviewed: Varies with device (2.14 on review device)
Requires: Varies with device
Download size: Varies with device (18MB on review device)
Related Posts