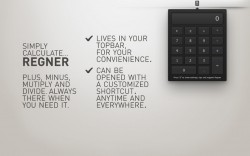 It's interesting how your computer preferences can change over time. When I got my first MacBook, I was all about setting up a ton of widgets. Now, I only have five that I use regularly. After my widget phase, I was more into standard apps and programs. But lately, the apps I'm gravitating towards Mac Apps that keep a low profile, and launch from just one place: the menu bar at the top of my screen. Once such app is Regner, developed by Holger Sindbaek.
What is it and what does it do
Main Functionality
Regner is a Mac application that launches from your menu bar. This handy calculator can handle basic arithmetic, and offers an attractive interface.
Pros
Opens with fewer keystrokes and mouse movements than it takes to open the native Apple Calculator app or a calculator app in your widget field
Can be opened with a custom short cut
Available at startup
Adjustable size and transparency settings
Sleek design
Handles addition, subtraction, division and multiplication
Ideal for retina display devices
Cons
Only does simple math: if you need a calculator for your Mac that's more like a TI-83, this ain't it
Pretty darn similar in terms of size and functionality to Apple's native calculator app or calculator widgets
Discussion
You're probably thinking, "Big deal. It's just another calculator app." And really, that's kind of a fair assessment. After all, must calculator apps are pretty much cookie cutter, and it really is hard to distinguish between them.
To be fair, Regner is very similar in layout and functions to pretty much every other calendar app and widget out there…at least, the ones which have been designed with simple, basic arithmetic in mind. However, Regner does have a couple of things that make it stand out from the rest of the pack.
For example, it's retina-ready. What's more, Regner is very attractive, working with a minimalist palette that makes it appear sleek and modern.If you love simple, elegantly designed apps, this is one of the good ones.
But beyond just good looks, Regner is also worth selecting out of the horde of similar calculator apps because of its flexibility. It's such a small thing, but Regner has size customization, a feature that plenty of other calculators lack. For people with vision issues or visual impairments, having a larger area to work on is a nice touch.
The latest version of the app is version 1.2. This new version of the app has a couple of performance improvements, most notably a fix that makes the comma play nice. Don't like what you see? You can write a review right from within the app!
Conclusion and download link
Regner is an attractive calculator that can handle your basic math needs. It's convenient menu bar location makes it easy to access with a single click, and dismiss just as easily. If you're looking to flesh out your menu bar with a couple of basic tools, this useful app is worthy of inclusion. It handles quick and simple calculations very well.
Price: Free
Version reviewed: 1.2
Supported OS: OS X 10.8 or later

Download size: 0.4 MB
Related Posts