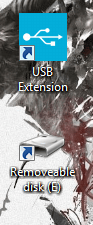 Some of the best windows applications come in the form of a simple tool that ultimately extends the user experience. Often, they add convenience and usability to the platform, which otherwise wasn't there to begin with. Speaking of convenience, isn't it slightly annoying how every time you plug in an external USB drive the same autostart menu pops up and prompts what to do next, even though you always choose the same option? Chances are pretty high, when you plug in an external USB drive you have every intention of opening the necessary directory in a Windows Explorer window. Every time you close that window, or want to open a new one, you have to open 'My Computer' and navigate to the appropriate folder. USB Extension is a windows tool that automatically adds a shortcut to the desktop when you plug in an external USB drive.
What is it and what does it do
Main Functionality
USB Extension is a simple yet convenient tool that adds a shortcut to the desktop automatically as soon as you plug in any USB device that has explorable storage, like USB flash drive, USB external hard drive, your smartphone, your tablet, etc. It makes it much easier to browse the contents of an external drive, and pretty much eliminates the need for the Windows autorun menu.
Pros
Automatically adds a shortcut to the desktop for connected media
Will work with multiple drives when plugged in
Can be configured to create shortcuts for CD-ROM media and network drives
Extremely light on system resources (uses nearly 1,000KB of RAM while running)
Cons
Settings menu can only be accessed through Windows Start Menu
Sometimes the desktop shortcuts don't disappear (this can be easily remedied)
Discussion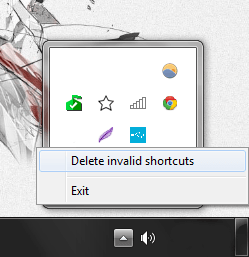 There's not a whole lot to say about this application or tool, but that's okay. I'm reviewing it because I certainly found it useful and I know a lot of others will too.
Often, when you plug in an external USB drive the Windows autoplay menu pops up. It allows you to perform several different actions, of which the most prominent is to open the directory of the external drive in a Windows Explorer session. Personally, I use the Windows Explorer option the most after plugging in a drive so it seems redundant to have to choose the option every time. Furthermore, it's annoying when I close the Explorer window out of habit and then have to navigate to 'My Computer' again before opening the necessary directory.
USB Extension eliminates all of those issues by adding a quick shortcut to the desktop as soon as you connect a drive. As soon as you remove the USB Drive, the related shortcut will disappear from the desktop. If you plug in more than one USB drive than more than one shortcut will appear on the desktop, pretty straightforward stuff.
Sometimes, the related desktop shortcuts fail to disappear even after you disconnect a USB drive. This situation can be remedied by right clicking on the system tray icon and selecting 'Delete invalid shortcuts' in the context menu.
Oddly enough, even in the context menu accessed via the system tray there are no configuration options. If you want to change settings pertaining to the application, you have to access the 'settings' option from the Start Menu entry.
There are several options pertaining to the media that is displayed on the desktop. By default, the application only creates a shortcut for connected USB drives but you can also tell it to create shortcuts for CD-ROMs and network drives.
In addition, you can tell the application to always create a shortcut no matter or what or only create one when media is mounted. The latter option is ideal for CD-ROM drives or card readers of any kind, because if it is enabled it will only display a shortcut when new media is loaded.
For reference, USB Extension uses a little over 1,000KB of RAM while running which means it's extremely light on system resources.
Conclusion and download link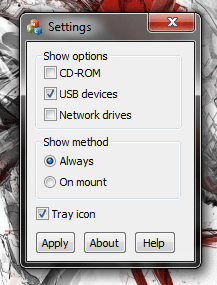 USB Extension is a perfect tool for those times when you just want to plug in a device or load media content and get right to the nitty gritty. By automatically adding a shortcut to your desktop, USB Extension helps make you more productive by easily accessing your USB connected device via your desktop and mostly eliminates the need for autorun or any other navigation process. Of course, there are some quirks like icons not disappearing, but that's okay because the issue is easily fixed. If you're like me and you just want to access content stored externally quickly and easily, then definitely check out this useful tool.
Price: Free
Version reviewed: 1.0
Supported OS: Windows (XP, Vista, Seven)
Download size: 2.9MB
VirusTotal malware scan results: 0/47
Is it portable? No
Related Posts