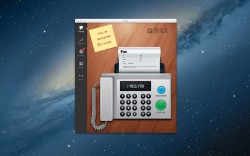 In most of the world, the fax is a dinosaur, an outmoded piece of technology that takes up space in your office, but doesn't really do much. I know that in Japan, they're oddly still quite popular, and many people have to use them regularly for dealing with timesheets and whatnot. But at least in the US, the fax machine died sometime in the late 90s.When I still worked in a law firm, we'd get faxes occasionally…and about half of the faxes we received were spam from travel companies. Did you know that fax machines get spam? Because I didn't. Still, every once in a while, I find myself needing to use a fax machine, often to send tax or payroll forms.
Since I don't own a fax machine and I work from home, that puts me in something of a pickle. I could drive to the nearest Kinko's and send a fax, or I could use one of the many "send a free fax here" websites, which always seems a bit sketchy…especially with personal documents. That's why I decided to check out a free Mac App called iFax.
What is it and what does it do
Main Functionality
iFax is a free Mac app that lets you send faxes, without actually having to own a fax machine!
Pros
No need to set up an account to use
Sync your iFax account with iOS or Android apps
Sign without having to print or scan
Gives you your own local or toll-free fax number in the US, Canada, UK (and some other countries as well)
Retina display-ready
Plays nice with with OSX Lion Notifications
As with a traditional fax machine, you can get fax confirmations to put your mind at ease
Cons
In-app purchases must be made every time you want to use this app
Not available for Macs running Snow Leopard OS or older
Discussion
iFax may be free…but only sort of. The download is free, you need to make in-app purchases to actually send faxes. The price of each fax is determined by two factors: how many pages you want to send, and what country you are sending the fax to. You don't pay per page, however: the pricing tiers are broken up by five page increments (so you'd pay one fee for 1-5 page faxes, and a different fee for 6-10 page faxes.)
Using this app can feel a bit like a shakedown, but if you do the math, iFax is actually pretty reasonably priced. After all, if you only send a few short faxes a month, iFax is still way less of a hassle (and way cheaper) than buying a fax machine. The Mac App Store has a full breakdown of the prices and destinations. The "More" menu within the app also has this breakdown.
If you sync your iFax for Mac account with your iPhone version of the app, you'll get push notifications on your phone, which is a very nice touch. Do note, however, that having a dedicated fax number assigned to you costs $12.99 per month.
In addition to the US, UK, and Canada, it is also possible to get local or toll-free fax numbers assigned to you if you reside in one of the following countries: Australia, Germany, Italy, Spain, Israel & Turkey. Overall, the app is very attractive and simple to use.
Conclusion and download link
Despite the annoyance of constant in-app purchases, iFax is a good fax solution for anyone who wants to send faxes securely without having to shell out $60-$300 for a fax machine or printer/scanner/fax combo. This app is probably ideal for people who don't like wasting paper, or people who send faxes far more frequently than they receive them.
Price: Free
Version reviewed: 1.1
Supported OS: OS X 10.7 or later

Download size: 61.9 MB
iFax on Apple App Store
Related Posts