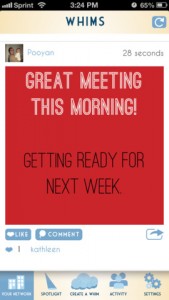 In any social network, it can be hard to stand out from the pack. For the most part, everyone's status updates look the same, and everything can sort of blend together. If you want to add a splash of color (and a dash of personality) to a boring old status update, there's an interesting social networking app called Whims that might be just what you're looking for.
What is it and what does it do
Main Functionality
Described by TechCrunch as "If Instagram Were More About Words Than Things," Whims is a social networking app that lets you take a boring old status update and make it look unique using different fonts and color schemes.
Pros
Jam-packed with fun fonts that have a pop culture tie-in or twist
Sign in by creating an account or logging in with Facebook
Spotlight section lets you see what whims are hot right now and get inspired
Shares whims on Whims, Facebook, Twitter, tumblr, or Instagram (and add links within your creations)
Make whims public or private!
You can add color, change fonts, and even add textured backgrounds to your work
Cons
Interface for constructing a new whim is a little cramped and occasionally confusing
Somewhat limited array of fonts (though the fonts that are available are fun!)
Discussion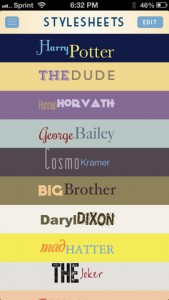 Something that makes this app engaging right from the get-go is the practice of naming font sets after pop culture touchstones, such as Elizabeth Bennett (from "Pride & Prejudice"), Darryl Dixon (from "The Walking Dead"), or Westley (from "The Princess Bride.) There are fonts inspired by franchises as disparate as "Batman," "Girls," and "Seinfeld."
One thing that I like is the "textures" tool. After you enter your text and select your fonts and colors, you can add texture to the background, such as water spills, rust, or crumples. What's nice here is that you aren't just slapping a filter on your whim and calling it a day: you can tap the texture multiple times to increase the severity of the texture. You can also blend textures together.
I still think that the whim creation interface could be cleaned up, stripped down, and minimalized. It seems like many of the inputs could be more reliant on gestures: why do I have to use the slow-as-molasses arrow buttons to move a bit of text, when I could drag and drop it? As it stands now, the interface is a little cluttered and confusing.
In a lot of ways, Whims reminds me of the heyday of AOL's instant messenger. In high school and college, my friends and I were all obsessed with making our profiles pop by using colors, interesting fonts, and clever text (usually a blend of song lyrics, quotes, or observations.) Whims offers that same way for people to express themselves, and I'm interested to see where this app goes from here.
Conclusion and download link
Everyone else is using text to give their social updates. Why say it with words, when you could say it with words AND color…and a pile of fonts that really express your mood? This is a clever tool for people who are visual, and want their status updates to reflect that.
Price: Free
Version reviewed: 2.1
Supported OS: Requires iOS 5.0 or later.

Download size: 18.7 MB
Whims on Apple App Store
Related Posts