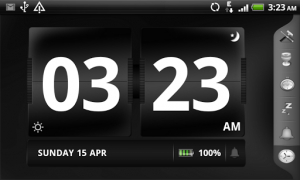 I think it's safe to say that most of us don't even really need a traditional alarm clock anymore. The modern smartphone has pretty much replaced most other electronics. Heck, smartphones and tablets have replaced a lot of things. Using your phone or tablet as a wakeup clock, cooking timer or more is sometimes necessary. Unfortunately, the stock applications offered on most handsets are real basic when it comes to features. Alarm Clock Ultra is a great Android application that expands everything you've come to expect about an alarm clock app. It features homescreen widgets, vacation mode, a quick sleep mode for naps and more.
What is it and what does it do
Main Functionality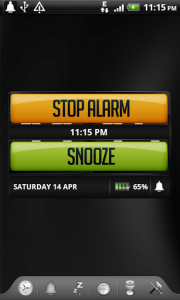 Alarm Clock Ultra is essentially a comprehensive alarm clock utility for Android. It runs on Android 2.2 or higher, which means even older devices can benefit from it. It's a pretty advanced application that allows you to configure all kinds of parameters. For example, if you're the type of person that groggily turns off your alarm when you're half asleep, you can set Alarm Clock Ultra to ignore snooze modes or only unlock after a task has been completed.
Pros
Single and simple UI for all tools and functions
Comprehensive alarm clock application

Set alarms to only disable for the correct answer of puzzles or math problems
Night mode offers a demo mode while sitting on your nightstand
Setup an unlimited number of alarms
Set custom alarm tones or sounds

Also includes:

Egg timer
Stopwatch
Timer
Quick sleep mode (cat naps) or countdown timer
Cons
Advertisements are displayed at the bottom of the screen (when the app is open)
Uses nearly 60MB of RAM while running, which is pretty high
Discussion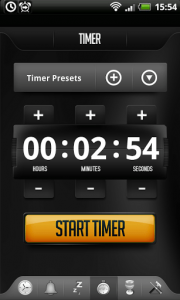 Before we begin, this is a review of the free version of Alarm Clock Ultra. There is a pro version available for $2.99. Included in the premium version are more alarm sounds, an Ultra Sleep System (plays relaxing music for ambience while sleeping), along with realtime weather and social media updates.
It's a pretty extensive application, but most of the features and functions are surprisingly basic. That being said, I'm not going to go in depth for every function offered, especially the ones that are pretty common. The full list of tools included with Alarm Clock Ultra are as follows:
Display mode and clock
Alarm
Quick sleep mode, great for naps
Stopwatch and timer
Egg timer
Night mode- prevents screen from turning off and displays a clock
Vacation mode- repeat alarms are automatically disabled
The alarms are pretty fleshed out, and there's quite a bit to configure when setting one. For example, you can choose the trigger time, whether it repeats or not, the ringtone and more. If you want the volume to gradually increase or vibrate the device you can also customize those options.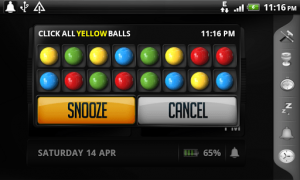 To dismiss the alarm you can go the traditional route, or you can either shake the device, solve a puzzle, or solve a math problem. You can also set the difficulty of the math problem, and how many problems you need to solve successfully in order to turn off the alarm. This feature is pretty unique, and it's also incredibly useful especially for heavy sleepers like me. The alarm will continue to sound until you meet the requirements.
The quick sleep mode allows you to choose pre-configured increments for little power naps or perhaps something else. The options are 15 minutes, 30 minutes, 1 hour and 2 hours. Once you tap 'quick sleep' it will automatically run a related countdown timer for the specified interval.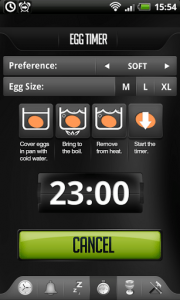 The stopwatch includes start, stop and lap buttons, along with a reset button when you've seen enough. The timer and egg timer functions are pretty straightforward so there's no explanation needed. Again, a lot of these extra features are just convenient, but they don't offer anything remarkable or special.
As for the widgets, there are seven available all in different sizes. Only two types of widgets exist however, from what I can tell. There are a couple standard clock widgets, and then there are alarm widgets.
Unfortunately, Alarm Clock Ultra uses nearly 60MB of RAM while running which is quite a bit for an application like this. You're going to want to remain near a charger if you're using this app, especially if you're running the night mode. Since it's meant to be used as an alarm clock mostly, I'm sure anyone using it will have it connected to the charger anyway while they're sleeping.
Conclusion and download link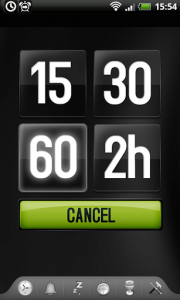 Alarm Clock Ultra expands upon the functionality of the stock Android alarm clock and timer app. It adds a couple unique features to the fray, but honestly there's also a lot of recycled stuff here too. Namely, the disable techniques for the alarm clock are wonderful, especially if you're a heavy sleeper. You can set the sounding alarm to only disable if you are able to complete math problems or simple puzzles. I know, you're probably thinking that sounds like a disaster, but that's the point. It's too easy to just wake up and hit the snooze button or disable the alarm, you want something that's actually going to wake you up and keep it that way. Of course, there is also an egg timer, stopwatch, quick sleep (nap) function and more. Alarm Clock Ultra does use quite a bit of system resources while running however, so make sure you're near a charger if you decide to use it. Vacation mode is useful when you want to disable repeat alarms, and night mode offers you a sort of nightstand demo mode for the clock. If you want a little more out of your mobile alarm clock check this one. If you already have a favorite alarm clock app then this probably won't offer much to draw you away, unless you find the puzzle and problem disable feature desirable.
Price: Free
Version reviewed: 4.0.5
Requires: 2.2 and up
Download size: 15MB
Alarm Clock Ultra [free] on Play Store
Related Posts