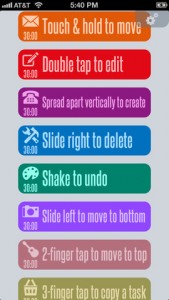 For most people, some kind of task manager is a must. For some people, that tasks manager is a PA or an executive assistant. For others, it's a simple pen and paper to-do list. For iPhone fans, the task manager is often an app. One such app is 30/30, a task manager that turned a lot of heads last year. It made one of our "apps of the day" list back in 2012, it also was named Runner-up for Best Task Manager app in the 2012 Best App Ever awards. But a year can be a very long time in app terms…so how has 30/30 aged since 2012?
What is it and what does it do
Main Functionality
30/30 is a task manager that helps you to stick to your timetable. You provide a list of "to-do" items and a time frame for completing each one, and 30/30 lets you know when it's time to move on to the next task.
Pros
Attractive, colorful interface
No stodgy tutorial to sit through: a slick demo is built right into the default set-up to help you get your bearings
Intuitive control scheme
Great way to stop procrastinating, or remind yourself to take regular breaks for mental clarity/ergonomics
Easily add or subtract five minutes from your timer
Cons
A small thing: that constantly blinking "settings" icon in the upper left is a bit annoying (and could be distracting for the severely ADHD)
Doesn't display the current time, just the timer.
When one timer ends, another timer begins right away (you may want to add a task item for "switching gears" to accommodate for this)
Additional icon packs must be purchased if you want them
Discussion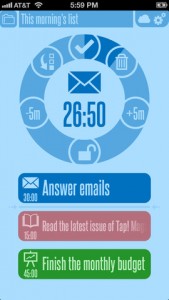 There was this girl in English class in my high school who was totally obsessed with color-coding. She always had to color code her binders, her dividers, her folders, her highlighters, and even her pens. At the time, I thought she just had an undiagnosed case of OCD. In retrospect, I appreciate that color breaks really can send a message to users and keep them focused.
If you love color-coding or color breaks, 30/30 is bound to appeal to you. In addition to color breaks, a variety of icons are available to festoon your tasks with. The entire screen changes color to match your current task, which really does have this subconscious way of focusing your mind on the task at hand.
30/30's interface is very simple and intuitive. Various tasks are listed below the central "wheel," with each task getting a different color. Touch and hold the colored tasks blocks to move them, double tap to edit their contents, and slide right to delete. If you've ever used an iPhone for more than a minute, these gestures are as obvious as breathing. Tap the dial to start or pause timing for a task.
Everyone's personal organizational style is different, so the level of customization in 30/30 is really nice. No matter how you like to stay organized, you can likely make this countdown tool work for you.
Conclusion and download link
If you need help staying on-task, this colorful countdown tool is a good option. It might have turned the most heads in 2012, but this clever app is worth checking out if you missed it back then. This is a solid app that deserves all the praise it has gotten.
Price: Free
Version reviewed: 2.1.2
Supported OS: Requires iOS 4.3 or later

Download size: 13.9 MB
Related Posts