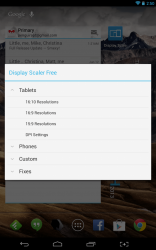 One thing in particular that you can do with any computer is change the screen resolution. This is helpful if you want to increase performance for graphic intensive games, and in some cases it even allows you to output content to a monitor or display. What I mean by that is, sometimes a display will support lower resolutions than a computer or graphics card can actually output. In that case, you have to select a lower resolution that's supported. Wouldn't it be useful if you could change the resolution for your Android smartphone or tablet? I'm sure by now you're wondering why you would want to do that. Well, what about when you connect your device to your TV or display and the resolution is screwy or the aspect ratio is messed up? Resolution Changer for Android is a relatively simple and free application that allows you to change the operating resolution and aspect ratio of your device.
What is it and what does it do
Main Functionality
Resolution Changer allows you to alter the display resolution or aspect ratio for your device. It can even help you play modern graphic intensive games on an older handset, because you can downgrade the operating resolution. There are quite a few more uses for an application like this too, like changing the output resolution to your display. Unfortunately, it does require root access to use which obviously means your Android device needs to be rooted with a superuser app installed.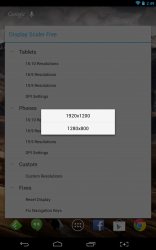 Pros
Displays

menu overlay that allows you to select various settings
Allows you to change the aspect ratio and display resolution of your device
The display can be reset to default settings at

anytime

, and there is a fix for issues that occur with the software buttons
It's a quick and convenient tool
Cons
Requires Android 4.0 and up
Requires root access
Sometimes the software buttons can disappear on select devices, and they won't restore after resetting the resolution (there is a fix for this included with the app)
It would be nice to see more resolutions available to choose from
Discussion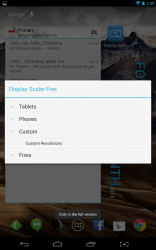 There are two versions of Resolution Changer available, a premium (paid) version and a free version, which happens to be what we're reviewing today. The paid version offers custom resolution support, and you can also change DPI settings. These options are not available in the free version, but the paid version is only $2.07.
Using the application is pretty simple, when you select the Resolution Changer icon an overlay menu pops up. There are four options available, tablets, phones, custom and fixes.
The tablets option houses tablet based resolutions, the phones option houses phone based resolution, custom allows you to choose a custom resolution and fixes allows you to reset the display to the default resolution and fix the navigation keys.
When you choose either the phone or tablet options, you then have to choose a desired aspect ratio which consists of 16:10, 16:9 and 15:9. A DPI setting is also accessible via this menu, but the free version does not allow you to change this particular option.
When you choose the desired aspect ratio, you will then see any supported resolutions for your device. On my tablet which was used for testing, only two resolution choices showed up for each aspect ratio.
It's as simple as selecting a resolution from the list. The application will then change the operating resolution for your device. If something goes awry, or it's not the resolution you want you can just expand the "fixes" menu and reset the display.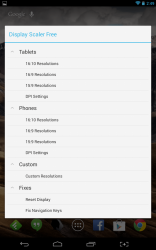 On some devices, the software navigation keys will disappear after you change the display resolution. In some rare cases, the navigation keys remain missing even after you reset the display. In that case, there is a "fix navigation keys" option in the fixes menu. It will soft reset the device entirely and change all the resolution settings back to the default options.
That's pretty much it, Resolution Changer is incredibly simple, but also very useful. If you want to change the output display resolution, or even lower the resolution of your device so you can play graphic intensive games, then this application will allow you to do so.
There's no point in talking about resource usage since that has little to do with this application.
Conclusion and download link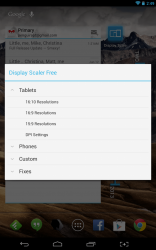 Resolution Changer will allow you to do exactly as the name implies — alter the display resolution and aspect ratio of your device. It can come in handy in many situations, and can even help you play graphic intensive games on an older model phone or tablet. You will need to have a rooted device in order to use the application, and it also requests superuser access. But if you need the functionality, this app does what it says.
Price: Free, $2.07 (pro)
Version reviewed: 1.3
Requires: Android 4.0 and up
Download size: 85KB
Resolution Changer on Play Store
Related Posts