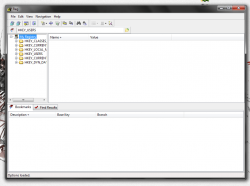 Sometimes, working with the Windows Registry is a necessary evil. Over time, the constant install and uninstall process can cause it to get quite bloated with empty entries. Furthermore, every now and then it can be necessary to change settings through the registry. Whatever your reason for working with the registry, you probably use the default Windows editing tool. The Windows Registry Editor is actually quite lacking when it comes to simple features like bookmarking, advanced search and more. A possible alternative is Reg, a free open source editing tool for Windows that adds a few extra features into the mix.
What is it and what does it do
Main Functionality
Reg is an open source registry editing alternative that offers a few extra features to make working with the Windows registry less of a hassle. More specifically, with Reg you can bookmark entry locations, find specific keys faster, and use a more powerful search tool. It takes the same basic interface as the Windows registry editor and expands upon it considerably.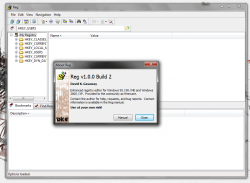 Pros
Resembles the vanilla registry editor
Includes some additional features

Bookmark registry locations
Powerful search tool,which displays entire results in a single tab
Quick registry path tool, enter a specific location to navigate there instantly

Light on system resources, uses less than 4,000KB of RAM
Cons
I encountered an error during the first run, it was easily fixed with a system restart (error message still appears)
Discussion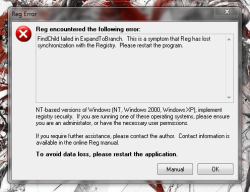 Right off the bat, I'll name the first thing I dislike about Reg. It doesn't come in a portable package, instead you have to install the application to use it. I would much prefer the option to run it from an external drive or a custom directory, but alas you cannot.
I also encountered an error when first using the application, which you can see in the image to the right. After a system restart the error code went away and everything was working fine. I did look for a fix on the official site, and found one other instance of the error but no fix was listed. If restarting your computer doesn't fix the issue then I'm afraid I don't know how to help.
When you start Reg, you'll notice right away that it looks nearly identical to the vanilla Registry Editor for Windows, with exception to another listbox located at the bottom of the window. On the left you'll recognize the navigation tree, and to the right of that you'll see the display box with selected content.
Across the top is the standard text menu, but below that you'll notice some unique options to Reg. Starting from left to right, you can import or export registry files, edit an existing key or create a new one, and organize the view. Of course, there are specific functions within each of those option categories, but you get the gist of it.
What makes Reg more powerful than the vanilla editor?
First and foremost you can create bookmarks of keys that you frequent. This is particularly useful if you're messing around with registry hacks or settings and need to constantly change out entries. Instead of opening the editor and navigating to the resulting key every time, you can simply save it as a bookmark for quick access.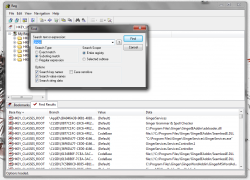 Next, is the search function which is much more powerful in Reg. In the 'find results' tab at the bottom of the window, all results containing the string you searched for will appear. In Reg the results are displayed all in a single go, instead of individually. Furthermore, you can fine tune your search by type (exact match, substring match, regular expression), scope (entire registry or selected subtree) and more.
You can also instantly jump to any key directory or location in the registry by using the 'open registry path' tool. Of course, to use it you need to know the exact path you're looking for beforehand. However, it's great for those times when you're poking around on a forum and someone mentions the exact location for a registry fix or edit.
You can right click on an entry at any time to add it to your bookmarks, copy the value or delete it, export the file and perform basic tasks. Just the bookmarks feature alone is incredibly useful, and it makes me wish I had discovered the app much sooner.
For reference, Reg uses nearly 3,600KB of RAM while running which in turn means it's light on system resources.
Conclusion and download link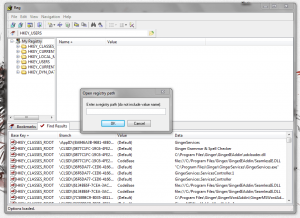 Reg is a free alternative to the vanilla Windows registry tool. It offers several features that enhance your experience and make working with the registry much easier. For example, the bookmarks option allows you to save frequented registry locations, and the search tool is much more powerful allowing you to see the entire list of query results in one go. Furthermore, a quick path tool allows you to navigate directly to a registry key just by entering the location path. Unfortunately, it's not portable, but there are no advertisements to bother with and the install package does not include any bloatware. If you're looking for a simple registry tool with some advanced functionality, that still looks pretty close to the vanilla editor then Reg is certainly a viable option.
Price: Free
Version reviewed: 1.0.0 build 2
Supported OS: Windows (2000, XP, Vista, Seven)
Download size: 1.12MB
VirusTotal malware scan results: 0/44
Is it portable? No
Related Posts