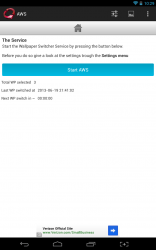 Every once in a while I like to give my Android a redesign. Usually I change my launcher or theme, alter any visual styles I have active and change the background wallpaper on my device. The easiest way to freshen up your handset is to change the wallpaper. It's quick, and if you find the right image it spices up the layout just right. One thing that I think would be pretty awesome is if you could set a series of wallpapers for your device to swap out at random intervals. That idea led me to find this next app, Advanced Wallpaper Switcher. It's a convenient HD wallpaper app that will actually swap out background images automatically after user specified intervals.
What is it and what does it do
Main Functionality
Advanced Wallpaper Switcher has a few different options available, but all of them allow your handset or tablet to remain fresh and interesting by automatically changing your wallpaper. It cycles between a selection of wallpapers from 10 second to 24 hour intervals, depending on what you choose. You can also allow the app to change out wallpapers every time you unlocked your device. One of the biggest concerns with an app like this is that it will waste away your battery, but the developers claim it's been specifically optimized to "keep your battery safe."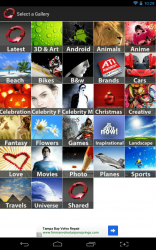 Pros
Automatically cycles through selected wallpaper images
Can change images every 10 seconds up to once per day, and can also change the image every time the device is unlocked
Provides access to a community based image gallery of HD wallpapers
You can use your own wallpapers stored on the device, and that includes any downloaded from external sources
Images can be

downscaled

or

upscaled

to match the device's native resolution (not recommended)
You can also pause the timer on standby and setup a notification sound for when the wallpaper is changed
Is "always on" but I didn't notice any significant battery drain
Cons
Uses 35MB of RAM while running, could be lighter
Includes advertisements, but they are not obtrusive
Discussion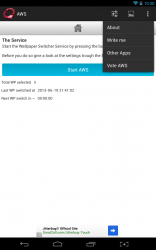 Advanced Wallpaper Switcher isn't just an automated wallpaper tool. It also provides access to a huge selection of HD images, all of which are uploaded by an active community of members. If you've ever used Zedge before, it's a lot like that in terms of visual content. Of course, Zedge includes a much larger selection of content including ringtones, apps and more.
Since the application is free, there are advertisements spread throughout. Luckily, none of them are obtrusive nor do they cause any issues with the responsiveness of the app.
The very first thing you'll see when you start the app is the main control for the AWS service. There is a single button, labeled as 'start AWS,' which obviously does what the name implies. When you start the service, it will automatically run in the background as specified. In the top right hand corner of the UI are three software buttons, which provide access to the application settings, wallpaper gallery or community, and additional settings.
Just to get them out of the way, the additional settings are not relevant to the operation of the app. The menu includes an about link, a contact link, a link to the developer's other apps in Google Play and a link to review AWS.
The first thing you'll want to do, unless you already have the images stored on your device, is download some HD wallpapers. Tapping on the gallery icon will bring you to the wallpaper community where you can seek out a wide selection of image content. Available image categories include the following:
Latest
3D and art
Android
Animals
Anime
Beach
Bikes
B&W (Black and white)
Brands
Cars
Celebration
Celebrity Female
Celebrity Male
Christmas
Creative
Fantasy
Flowers
Games
Inspirational
Landscape
Love
Movies
Photo
Planes
Sports
Travels
Universe
Shared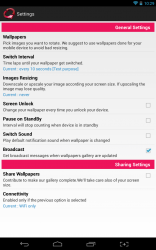 As you can see, that's quite the list of available image content. Each category includes about 15 to 20 images each, except for 'latest' and 'shared,' which include a bunch of images from the various other categories. If that's not enough for you, you can always import your own images to use in the application settings.
In the settings menu the very first option is the image chooser for the related content you want to cycle through. By default, it displays all images that also show up in the Android stock gallery. To choose an image, it's as simple as selecting it in the gallery list. When an image has been selected, a white overlay will appear over the image turning it a milky color. This lets you know which images are currently imported for the wallpaper switcher. To remove images from the cycle, all you have to do is tap them again and the white overlay will disappear. It's quite simple, really.
Back in the application settings menu, the other options include the following:
Switch interval selection- from 10 seconds all the way up to once per day
Image resizing- enable or disable image

downscaling

/

upscaling

to match your device's resolution
Screen

unlock

– when enabled the application will change the wallpaper every time the device is unlocked
Pause on standby- The switch timer will pause every time the device enters standby
Switch sound- a notification sound will play every time the wallpaper is swapped (enable/disable)
Broadcast- display messages when the wallpaper is swapped
Share wallpapers- share your own wallpapers
Connectivity-restrict connection to

Wi

-Fi only, cellular only, or

Wi

-Fi prioritized with both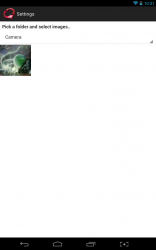 Once everything is setup, all you need to do is press the button to start the service on the main screen and the application will take care of the wallpaper swapping by itself. After all, that is what the app is supposed to do.
I will say, AWS is very convenient for customizing your wallpaper because most of the process is automated. Of course, you still have to choose which wallpapers you'd like to see, but that's okay.
I would recommend setting up an album or folder specifically for wallpaper images, that way when you download wallpaper from the web you can store it in the folder and quickly access it through the AWS gallery. By quickly access, I mean that you can quickly tell which images in the folder are new, and then you can add them to the current cycle.
On the main screen, a small ticker will show you how long until the next wallpaper switch and it will also list the last date and time it was switched, along with how many images are in the current cycle.
For reference, AWS uses nearly 35MB of RAM while running.
Conclusion and download link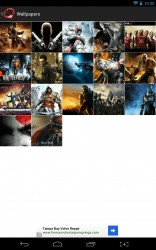 Advanced Wallpaper Switcher is an automated background image changer for Android. It changes images on a user-specified interval, anywhere from every 10 seconds to once per day. It can also be customized to change the wallpaper every time the device is unlocked. Users have access to a pretty reasonable selection of HD wallpapers through an online community, or you can import your own images for use. Selecting images to use during the cycle is easy, and just involves tapping on the ones you want in a gallery list. Additional options include playing a notification every time the wallpaper is changed, and upscaling or downscaling images to match the device's native resolution. It does use 35MB of RAM while running which is a bit high for an Android app, but that's to be expected really with an app like this. I did not notice a significant increase in battery drain while using the app, which is also welcome. Overall, if you want the ability to automatically change the wallpaper on your Android device, this is an excellent job for that purpose.
Price: Free
Version reviewed: 1.12
Requires: Android 2.2 and up
Download size: 866KB
Advanced Wallpaper Switcher on Play Store
Related Posts