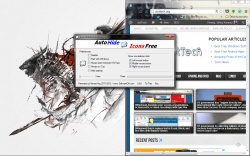 If you have a computer that's used by multiple people, it's possible that it's suffering from what I like to call desktop clutter syndrome. To clarify, clutter syndrome is when the desktop is littered with application icons, folder shortcuts and more. Personally, I like a clean desktop, but because I'm not the only one that uses the computer in my household that can sometimes be a problem. AutoHideDesktopIcons is a free, portable application that allows you to instantly clean the desktop by hiding icons. It's great for those times when you want to experience a clutter free desktop, or you just want to admire that nifty wallpaper you applied.
What is it and what does it do
Main Functionality
AutoHideDesktopIcons is a lightweight application that serves a very specific purpose. With it, you can quickly hide desktop icons to clean up your desktop's appearance. The desktop icons still exist, and can be restored at any time. AutoHideDesktopIcons includes a bunch of activation options to enhance your experience with the app. By default, the app hides icons and shortcuts after five seconds and restores them any time you click on an empty space of the desktop with the left, right or middle mouse buttons.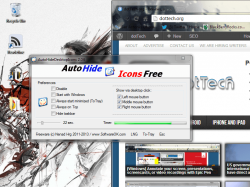 Pros
Incredibly lightweight and simple, easy to use
Hides desktop icons and shortcuts completely after the timer counts down
The hidden content is revealed as soon as you click on an empty space

of

the desktop with the right, left or middle mouse buttons
Includes simple customization options

Disable the application with the click of a button
Start the app with Windows
Run the app minimized when it first starts
Keep the application window on top of all other windows
Hide the Windows taskbar
Set the timer, from 3 to 100 seconds
Enable or disable any of the click actions
Cons
There's no scheduling option built-in, however you could use the Windows scheduler tool or third party software to run the app at various times
Discussion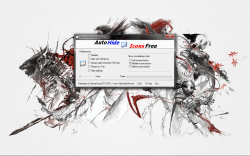 AutoHideDesktopIcons may seem pretty silly at first, but once you actually use it you come to realize it's a useful customization tool. If you're the type of person that hates dealing with a cluttered desktop then this app is for you.
It's a portable application which means it comes packaged as a compressed archive. You will need an archive tool like WinZIP, WinRAR or 7Zip to extract the related executable. Once the main file has been extracted, you can run it from any directory including an external or portable drive.
By default, as soon as you start the application the timer will countdown and the desktop icons will be hidden automatically after five seconds. Clicking anywhere on the open space of the desktop with the right, left or middle mouse buttons will restore those icons to view. However, interacting with any open windows or programs will not trigger the icon reset. In addition, you can also navigate the Windows Start Menu while the icons remain hidden.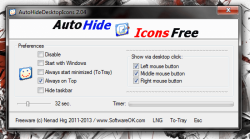 Basically, this allows the desktop to remain clean until you need to use the various shortcuts stored there.
The application menu includes several settings and options to alter the experience. You can change the timer, so that it takes longer to hide the icons after a click- you can choose from 3 seconds all the way to 100 seconds via a slider bar. You can disable the application completely with just a click, and you can also hide the app window in the system tray.
You can also set AutoHideDesktopIcons to start with Windows during startup, to always start minimized to the system tray, or to stay on top of all other windows. All of the options are simple tick boxes, allowing you to either enable or disable them.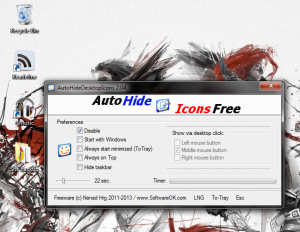 Furthermore, you can disable or enable any of the click options which are used to restore icons. For example, if you want to the set the app to only display the desktop icons with a middle mouse button click then you can disable the right and left click options.
The application works great, and it helps keep your desktop clean and clutter free. It's pretty straightforward and simple, but it's definitely useful.
For reference, AutoHideDesktopIcons uses less than 1,000KB of RAM, it actually uses about 956KB. That means it's incredibly lightweight and you can definitely leave it running the background without any serious performance issues.
Conclusion and download link

AutoHideDesktopIcons is a portable application that allows you to quickly hide and unhide desktop icons and shortcuts. It's incredibly light on system resources, so you can leave it running in the background without any detrimental performance issues. Because it's portable, you can run it from any type of external drive and don't need to install it. Better yet, it includes several customization options that allow you to control how the hide function works. You can choose what click actions reveal the icons (right, left, middle mouse buttons), how long the timer lasts until the icons are hidden, and how the app window itself operates. You can even setup the app to run automatically when Windows starts. If you're tired of seeing all that clutter on your desktop, you might want to check this one out.
Price: Free
Version reviewed: 2.04
Supported OS: Windows (XP, Vista, Seven, Eight)
Download size: 21KB (zipped), 35.5KB (unzipped)
VirusTotal malware scan results: 0/47
Is it portable? Yes
AutoHideDesktopIcons homepage [AutoHideDesktopIcons download page]
Related Posts