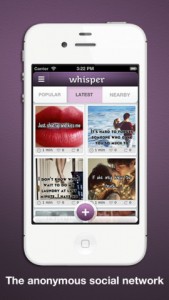 Let's be honest: our concern about NSA snooping or the "live mic" fears of a certain upcoming gaming console are symptoms of a bigger fear. We all want to live in a connected world, but we are starting to understand that being connected might come with the price of surveillance. Now, more than ever, we are starting to prioritize our privacy above other rights. For those who love privacy and/or anonymity, there's a social networking app that might appeal: Whisper.
What is it and what does it do
Main Functionality
Whisper is a self-proclaimed "anonymous social network." Similar in many respects to the infamous community confessional/art project PostSecret, Whisper is a social networking tool that lets people share secrets, confessions, fears, hopes, and dreams. Using photo filters and an array of fonts, you can create an image with overlaid text that expresses your innermost thoughts.
Pros
Tons of photo filters and font choices that you can use to create your "Whisper"
Fantastic, simple interface
Whispers can also be shared onFacebook, Twitter & Tumblr
Totally addictive way to kill time or get something off your chest
Reply or message others who share their confessions and give them support or guidance
Cons
Not all whispers are equally interesting, accurate, or juicy
Must give the app access to your current location to get access to Whispers near you
Discussion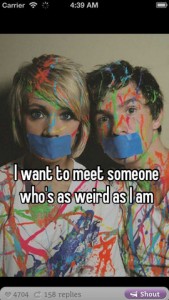 If you aren't familiar with PostSecret, a bit of backstory. PostSecret is an art project that's spawned a website and books: people send in postcards with confessions or dark secrets, anonymously. PostSecret doesn't appear to be affiliated with Whisper, but there's a ton of crossover appeal.
The UI in Whisper is great. New images load very quickly, and it's easy to sort Whispers by category: featured, nearby, latest, popular, and "shouted." The latter refers to the content with the highest number of "Shouts," a metric for seeing how much social traffic a Whisper is getting.
Building a Whisper of your own is quite simple. You can take a new picture, pull an old one from your camera roll, or search the web for an even more anonymous image that suits your mood and message. Next, choose a filter. Then add text, select the font style, or add a location tag. It's fast, responsive, and easy.
As with any app that's centered around user-submitted content, the various bits of content can be either stellar or stale. Some whispers are very clearly just popular song lyrics or quotes. These are kinda boring. There are some real confessions to be read here, and they are fascinating.
Conclusion and download link
Whisper is the most addictive social network I've ever used. Every other social network seems to be about fronting, about showing off what's great in your life. But seeing the dark side of people's lives is so much more interesting, even when you don't know who those people are. If you love PostSecret, or just want a different kind of social networking experience, this cathartic app is a really intriguing addition to the App Store.
Price: Free
Version reviewed: 2.9.7
Supported OS: 18.5 MB

Download size: Requires iOS 5.0 or later
Whisper on Apple App Store
Related Posts