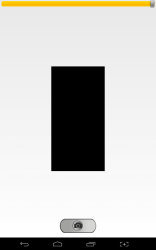 Most devices lack a flash for use with the front facing camera. Unfortunately, a lot of people actually use the front camera to take "selfies" or just to take photos with someone else. Long story short, a front flash would be useful in many situations, but a lot of devices don't have one. Front Flash for Android is an app that brightens the surrounding area so that you can take better photos with your front facing camera in low light situations.
What is it and what does it do
Main Functionality
Front Flash is an Android app that makes use of a bright screen to light up the immediate area so that you can take better photos with the front facing camera. Obviously, since a traditional flash is offered through hardware this is just a simple software fix and it's not meant to be perfect. The idea is to give you just a little bit more light to work with. Let's find out if it provides enough light though, shall we?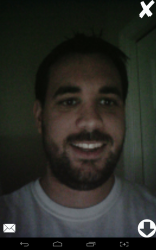 Pros
Very simple UI
Includes a bright white screen that's used for extra light while taking photos
Capture photos from directly within the app
Offers a brightness adjuster so that you can get better results

Overrides the default brightness levels of the device, they return to normal after exiting the app

Fullscreen

image preview
Store or discard captured images, you can also share them through your favorite apps
No advertisements
Cons
The images aren't perfect, but can you expect with no physical flaws
Would be nice to see video support, right now it just includes camera support
Discussion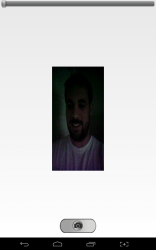 Okay, so there's no front flash on your device. That means taking photos or videos with the front camera in low light conditions wields some pretty shoddy results. If you're constantly taking selfies, or you're actually using the front facing camera in a practical way then the low light issue can be a real bummer.
Front Flash will supposedly alleviate some of that problem by offering a bright screen. In turn, it's supposed to offer a fair amount of light so that you can at least capture a decent photo.
As expected, Front Flash actually has a camera function built-in which means that you can take photos from directly within the app. This saves you the trouble of constantly swapping between multiple apps and screens, so it's definitely a welcome feature.
The UI is very simple. The image preview is displayed at the very center of the screen and all around it is a white border. There's a single camera button at the bottom of the window and a brightness level adjuster at the top. Altering the brightness level will make the white border brighter or dimmer, clearly changing the immediate area respectively. It actually changes the brightness of your device's display and overrides the system brightness settings until you close the app.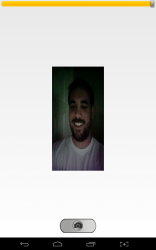 When you snap a photo, the app offers up a fullscreen preview of your newly captured image. You can either discard the image or save it on your device to local storage. You can also share the image from directly within the app. The share button works just like it would through any other application. When you press it, the OS serves up a list of installed applications that allow you to import the image for sharing. To state the obvious, you can share images via Facebook, Twitter, Text Messaging, Email and other apps installed on your device that support the feature.
That's it, there's nothing else to Front Flash. It's simple, convenient and useful- well, that is if you use the front facing camera on your device anyway.
Does it work? The answer to that question is yes, it works. The real answer, however is that it really just "helps" when you're trying to take low-light photos. Keep in mind they won't come out perfect, and they won't look like an image captured with a real physical flash. That being said, the results are much better than you would get if you were just using the camera alone.
Conclusion and download link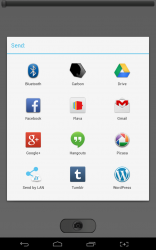 Front Flash is an Android application that provides a flash for your front camera; it does this by offering a bright white screen while you take photos with the front camera on your device. It isn't quite as effective as a real LED light, but it is better than nothing… which is what most phones and tablets have for front cameras. The final results with this app are not perfect, but the images certainly look much better than they would if you had captured them with just the camera and no additional light.
If you need this type of functionality, grab this app. Realistically, Front Flash is ideal for those times when you're out somewhere, possibly in the wilderness, where there's no surrounding light and you want to capture a photo with the front camera.
Price: Free
Version reviewed: 1.62
Requires: Android 2.3.3 and up
Download size: 812KB
Related Posts